A Look Into The XUK Summer Camp Experience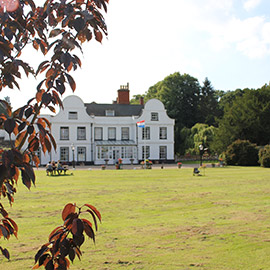 Imagine your day looked like this:
Morning: After a big breakfast at a table with friends, you head out for an hour on the climbing wall or go quad biking. You take a break at eleven o' clock to do an hour of arts and crafts, or a cooking class (to mellow out after all that excitement).
Afternoon: You reconnect with friends at lunch and share another good meal together. After your food has settled and you've had a quick rest, you take an archery or cheerleading class, followed by some casual footie or cricket on the field. When that's done, you rinse off by going water zorbing and swimming in the pool and then call it a day for running around.
Night: It's getting late now and you're pretty ravenous, so you take a breather and go for an early supper (with mates, again). Once you're all full, content and lethargic, you spend the rest of the summer evening chilling around the campfire playing games until it's time to pass out. You need your beauty sleep, because tomorrow is going to be just as busy…
This is the life of a lucky child at a summer camp. I know what you're thinking - it seems criminal that adults can't go too, especially when we're the ones who need the exercise. But that's life - we've had our turn to be youngins.
To find out more about how kids can make the above schedule a reality this season, we managed to catch up with Richard Bernstein, Camp Director at XUK Summer Camp (Essential Travel's Best All Round Summer Camp in the UK ). In between the busy process of setting up, we chatted about what they've got in store for campers this year and what new campers can expect.
Essential Travel: It's nearly time for the 2013 season to start. What's the atmosphere like at XUK leading up to the new season? We know you've been around for a long time now, but does the novelty of running an operation like this ever get old?
Richard Bernstein: It never gets old! Our office is very busy dealing with enquiries, bookings, staff, equipment and our schools. No two days are the same and that's part of what makes running camps so much fun.
Essential Travel: Does XUK get a lot of return campers every year?
Richard Bernstein: Yes. Over 50% of our campers are returners, which makes for such a lovely atmosphere. We can't wait to see all our returning campers again this summer. Some campers have been returning for many years and they are a really important part of the XUK family.
Essential Travel: Is there anything new and exciting planned for 2013?
Richard Bernstein: Yes! This year we are delving deeper into the world of water-sports with kayaking, canoeing and water zorbing! EXCITING!
Essential Travel: What's the best advice for kids and parents attending for the first time - especially for those nervous about homesickness or worried about safety?
Richard Bernstein: Ask us as many questions as you can prior to the camp so you have an idea about how the camp will run and so there are no surprises. Have an open mind and be ready to explore, meet people and have new exciting experiences. Those who throw themselves into the camp and want to have fun tend to have the most amazing time.
Essential Travel: You cater to kids interested in art, drama and sports. Is it possible for campers interested in all three to do some of each in one trip?
Richard Bernstein: Yes, at XUK children do a bit of everything - including adventure pursuits, trips, evening activities (eg: campfires), arts and crafts, drama, sports and much more.
We also have some amazing optional trips which are always a roaring success!
*XUK Offer Go Karting, theme park, canoeing/kayaking, Laser Combat and other excursions
Essential Travel: XUK welcomes campers from countries outside the UK. What is the interaction between kids from other countries like?
Richard Bernstein: It's great and makes for a fantastic environment! There is nothing better than a multicultural and multilingual camp. We can all learn from other people and cultures, and it is lovely to see children make friends from the other side of the world. Often they will keep in contact all year and organise to come back to camp together the next year.
Essential Travel: When is the last day for potential campers to book a spot at XUK?
Richard Bernstein: There is no last date, but it all depends on availability as some weeks are already fully booked. If you called a day before camp and we had space we could arrange for you to join us at camp.
Note: Essential Travel would like to thank Richard and Amelia Nickols for taking the time to chat to us and sending the pictures over during this busy period.
more blog posts