World's First Twitter-Themed Hotel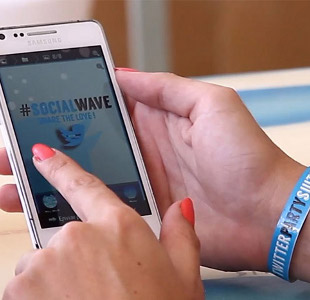 Social media has taken over much of our lives, including our holiday experiences. Gone are the days when you would go on holiday to get away from the stress of work and technology-filled lifestyles. These days, our holidays are often filled with Facebook updates, minute-by-minute tweets, contact with virtual friends and uploading photos onto Instagram. Sol Wave House, a hotel in Majorca, has taken this social media frenzy to new heights by being the first Twitter-themed hotel.
Experience The Hotel With Hastags
Guest interact with the hotel via Twitter. Use hashtags to check in, order room service or get fresh towels, and just by tweeting #FillMyFridge, get your bar fridge restocked, courtesy of the hotel's Twitter concierge service.
#TwitterPartySuites are Twitter-themed rooms complete with blue balloons, blue liquorice arranged in a hashtag and complimentary blue Mojitos to sip on at the pool. These rooms afford guests the concierge service, a free drink at the Twitter Party, VIP sunbeds and of course, what every tweeter needs, free WiFi.
Social Interaction For Guests
This is one hotel that seems to know how to cater to their social-savvy visitors. Guests at the hotel can interact with each other, share pictures and keep updated on events going on at the hotel with the #socialwave hashtag. The virtual and real world meet when the #TwitterPoolParty hashtag is used as guests can chat, socialise, flirt and exchange twitter handles to keep in touch. The twitter-themed parties take place every Friday at the hotel.
Many people book holidays, check flights, and track their luggage with nifty travel apps, so it's no surprise that Sol Wave Hotel is becoming popular with social media users. By integrating social media into guests' hotel experiences, they also improve their customer relations, which means that many other businesses may be adopting the same strategy very soon.
more blog posts