World Cup 2010 As Seen From Cape Town
Hello World Cup Viewers.
By now there are very few living people who don't know the 2010 FIFA World Cup is taking place in South Africa. The only ones who might not are still hiding in bunkers below the ground, convinced the world ended in January 2000.
What does this have to do with me?
For the next month, I'm your man in South Africa. I'm Port Elizabeth born and bred and now living and working a mere hop, skip and a jump from Cape Town Stadium. And from here on in, I'll be logging an in-depth diary of life in this city during the World Cup.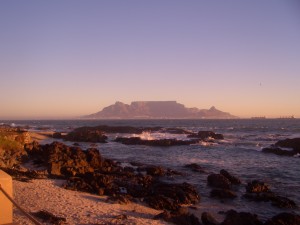 There's been a lot said about S.A. hosting this event. Some say it's wonderful, others not so much. But it doesn't really matter anymore. After 8 years of non-stop construction and road building, the circus has arrived. And so far, it looks glorious.
I have eyes in the back of my head, ears on every corner, and microphones in the public restrooms used by celebs. I'll be interviewing crazy fans and security guards, waiting for drama to unfold like a needy teenager. If it goes down at the World Cup, you'll read about it here.
more blog posts