2013 Winter Ski Essentials
With the festive season gone and the new year ahead of us, we round up a couple of gems that will see you through the 2013 ski season. We review the Fosi headbands and Bobski sledges, two of our newest partners to join the Use You Head campaign. We also review Resqski - a unique gadget that helps find your skis during off-piste skiing. Three free apps for your smartphone also make the list - Powfinder, Ski Trails and Tripster.
Fosi Originals
Fosi Originals are perfect for cold winter days spent on the slopes. Not only keeping you warm but stylish too. The Fosi helmet band is a flattering extra in case you think you don't look your best in a helmet. Fosi Headbands are a one size fits all and non slip, it stays in place no matter what your speed and can be worn with goggles too. They come in a range of colours and are the perfect ski accessory to brighten up your outfit – they're easy to pack so there is no excuse. Retailing between £20 and £35 there is something for everyone. Look out for their other products, headbands, cuffs, boot cuffs, scarves, boot warmers and their new pom pom range for ultimate luxury on your skiing holiday.
Bobskis
Bobskis have reinvented sledging, replacing the traditional wooden sledge and its flimsy plastic counterparts with its lightweight durable Polarpol™ bringing back the fun of sledging. You won't need to wait for heaps of snow or a holiday abroad, perfect for gentle hills and light snowfall. Take it away on holiday or enjoy the snowfall in your back garden in the UK. They're fun, fast, lightweight, easy to steer and tough – perfect for a good time in the snow.
Resqski
Recently launched at the 2012 Ski and Snowboard Show, Resqski does exactly that – it rescues your skis that have been submerged in the snow. Aimed more for the off-piste skier, the electronic ski finder for powder skiers can locate lost skis buried 1 metre in the snow from 30 metres away. Using radio frequency technology, Resqski uses a credit card-sized transceiver with two homing tags, which are fully waterproof and shockproof that are attached to the ski using a powerful adhesive sticker. Using sonic beeps and flashing lights you will be led right to the lost ski. The tags have an on/off switch which means batteries hardly need to be replaced in a season. Although each resqski comes with a transceiver device and one set of homing tags the handheld can support two sets of skis. Each tag will be registered to a specific number on the button, another set of tags can be bought separately and can be registered to button 3 and 4. Resqski will retail at £98 and at the moment can be bought online at www.resqski.com.
Snow Apps
There are a number of apps on the market that are free to download – perfect for your skiing holiday.
Tripster Ski
Tripster Ski is the ultimate ski app – something you will definitely need if travelling to the Alps (it is limited to the Alps but covers over 24 resorts). Tripster is a free app which can be downloaded on both the iPhone and Android device. Tripster allows you to benefit from perks and discounts on almost anything while on holiday. From discounts on ski equipment and lessons to bars, restaurants, free club entrance and complimentary shooters. Deals featured are selected by locals living in the Alps and you can be rest assured you'll be able to enjoy local spots at local prices while on holiday. All you'll need to do is download the app, sign up and show the venue your electronic voucher. It works perfectly offline, just download your resort beforehand and benefit from the deals without needing internet access.
Powfinder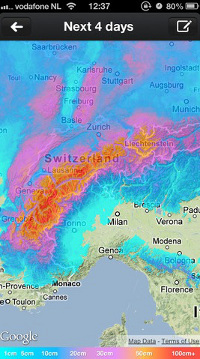 The new app by Salomon is a seriously useful app, providing the most accurate snow forecasts for Europe and North America. Powfinder helps you find the deepest snow. With user generated weather reports, users can send in snaps and descriptions of the weather resulting in the most up-to-date weather reporting. Powfinder gives you weather reports, forecasts with indications of where to go and snowmaps to illustrate the weather movements.
Ski Tracks
The Ski Tracks app enables you to keep track of your stats while skiing or snowboarding. Using the built-in GPS on the phone you are able to track all your statistical information easily - calculate your speed, slope angle, duration and ski vertical and it will automatically start a new run so you don't have to - just press the start button on your phone and keep it in your pocket. You will be able to break up your day into runs and lifts, all you need to do is use the Run-by-Run lift. Ski Tracks does not require any data or phone signal for tracking, so you will not incur additional data costs. The app is not affected by calls or messages or the running of other apps. Share your ski day on facebook or email yourself a copy so you can study and compare ski runs at a later date. It will help the beginner who needs guidance and the pro who wants to see an improvement.
more blog posts