Book Giveaway "London Adventure Walks For Families"
By: Caelyn Woolward
Published: 03 June 2013
Tags: competitions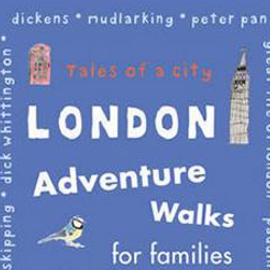 The team at Essential Travel Magazine love summer - it's the best time to explore and travel through your own country. So this season, we'd like to share the happiness by giving away two copies of London Adventure Walks For Families.
Courtesy of Frances Lincoln Publishers, London Adventure Walks For Families: The Tales of a City is a guide to the best walks and sightseeing spots the city has to offer. It's perfect for a family and day out - besides being fun and informative, it really makes you want to go exploring.
The quick tour teasers for new tourists and even old residents are ideal if you don't have much time, but still want to see the city. You'll find walks around all your favourite monuments and parks, including the London Eye - the biggest Ferris Wheel in Europe - and the treasured Big Ben, along with a few places that you probably never thought of visiting. The best part about the book? There are a lot of pictures, so the whole family can enjoy looking through it. And even though it's a family book, it's suitable for anyone - couples, solo walkers and groups of friends.
All you have to do is answer the question in the comments box below. And remember to leave your full name and email address so that we can contact you. The competition closes on 1 July 2013 and winners will be notified shortly afterwards by email. Have fun and good luck!
The question: What is the biggest Ferris Wheel in Europe?
Terms and Conditions apply.
more blog posts