Win Tickets To The Adventure Travel Show
The perfect pot of adventure travel know-how comes from a few core ingredients: add some of the world's craziest adventurers and a healthy serving of the most exotic places on Earth, and you'll have travelling at its best served on a silver platter. On January 26 and 27 2013 the Telegraph Adventure Travel Show brings adventure travel to the forefront at the weekend-long travel exhibition.
Essential Travel is giving away two double tickets to two lucky readers, so enter below to make sure that you don't miss out!
Describing itself as the UK's only event dedicated to experiences off the beaten track, the show looks at intimate wildlife experiences, remote discoveries and even volunteering and career-break opportunities. The exhibition is also packed with talks and advice by top adventure-travel experts, writers and tour leaders. And just in case you need something to whet your appetite, here are some of the adventure travels you'll learn about.
Take your family
Adventure travel isn't limited to thrill-seeking adrenaline junkies with loads of experience. Families can find themselves in the middle of a trip of a lifetime if they choose to jump out of their travel box and push their limits. Parents, kids and grandchildren can all appreciate the various wildlife tours on offer. From riding camels to feeding elephants and photographing lions, adventure travel is something the whole family can enjoy.
Walk on the wild side
I mentioned photographing wildlife: imagine getting so close to a cheetah - one of the fastest and strongest animals in the world - that you're able to take a picture like this. Better yet, imagine that cheetah coming to you and sitting on your car. It's certainly a moment you'll never forget. At the Telegraph Adventure Travel Show you'll not only get the chance to find out how to go on this adventure of a lifetime, but you'll also learn what to do if faced with one of these captivating creatures. Here's a tip from us at Essential Travel: don't try to outrun it. A cheetah can go from 0 to 60 miles per hour in three seconds. The fastest car in the world, Bugatti Veyron Super Sport goes from 0 to 60 miles per hour in 2.4 seconds.
Discover the desert with friends
Have you ever wanted to go into the heart of the Sahara Desert, but were afraid that you would die of dehydration or face a herd of stampeding camels? Or maybe, you just had no idea how to get your trip started. Fear no longer. The show will give you all the information you need on who to contact, where to go and what to take with you. You'll have the opportunity to hear from people who have had the experience first-hand and, even better, you can ask them a few burning questions. Like, how much water you might need.
Explore the waters in New Guinea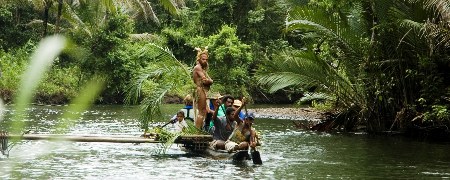 Most of us have been fortunate enough to visit the beach or dive into a cool lake on a hot day. A boat trip in New Guinea is a completely different experience, but definitely worth it. Get into a boat, hand-carved out of wood, and work the oars along with the locals - some of whom live in the tropical forests. Through all of this you'll be surrounded by lush green trees, extensive plant-life and vast, unpredictable waters. Whether you're a risk-taker or not, there is no better way to push the boundaries. The Telegraph Adventure Travel Show will take you through previous experiences and provide you with all the tools to create your own. Don't forget to take your camera and notepad along.
The show also features four travel theatres, including the Telegraph Adventure Theatre, The Incredible Journeys Theatre - where there will be discussions about the the Silk Road and Inca Trail (for a little extra reading on this, see our article on Cusco), the World of Adventure Theatre and Discover Africa, which will have information on safaris, canoeing and the Congo.
The show takes place on the 26 and 27 January at Olympia, from 10am to 6pm and 5pm respectively. Ticket prices range from £10 for one day entry and £15 for weekend entry. Seminar tickets are bit more expensive and have to be booked online. For more information you can visit Adventure Travel Show.
The competition is now CLOSED. The winner will be notified via email. Thanks for entering!
Terms and Conditions apply.
more blog posts