Win A Copy of the gap-year guidebook
By: Gugulethu Hlekwayo
Published: 02 February 2012
Tags: competitions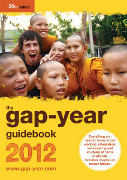 The gap-year guidebook is an essential guide to any prospective gap year travellers. In its twentieth edition the guidebook is a well researched guide to planning every detail of your year, or months, away. The book caters to all types of working holidays from: school-leavers to mature professionals to those who prefer to gap year in the UK.
To find out more about the gap-year guidebook read our review.
How To Enter
To win a copy of the gap-year guidebook answer this simple question in the comments section below.
Who publishes the gap-year guidebook?
Hint: the answer can be found in the review of the book.
The competition closes at 12pm on 20 February, 2012.
Terms and Conditions are available here.
Update: The gap-year guidebook give-away has closed. We will be contacting winners and announcing them soon.
more blog posts