Win A 2 Man Tent!
By: Guest Travel Writer
Published: 02 March 2012
Tags: competitions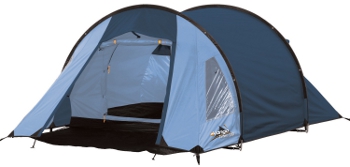 Food? Check. Wellies? Check. Camera (to show off your festival pics)? Check. Sleeping Bag? Check. Tent...? If you're missing a tent for your weekend of musical madness, somewhere on a farm in middle Britannia, then you'll love our latest give-away from Outdoor World Direct - a Vango Zetes 2-man (-woman, -man and woman, -woman and man and any other configuration that takes your fancy) heavy duty camping tent. Even if you're not the festival type this will finally give you an excuse to go camping and enjoy the many natural parks in our country.
To find out how to win this tent read on below
Tell me more about the tent

The Vango Zetes 200 Adventure tent, part of their 2 Man Tents range, is built for the festival - with space enough for after-festival drinks and those late-night chats that are half the fun of going to a festival. Here are some of the features of this outdoor alcove:
Fire retardant fabrics
Taped seams
Reflective zip pullers
Lantern loop
Handy handled carry bag
OutdoorWorldDirect.co.uk is the complete online camping store, so if you're missing more than a tent they offer sleeping bags, airbeds, stoves, rucksacks and footwear.
How to enter
To win this great prize answer this simple question on our Facebook page:
Where would you go with this great tent?
Competition closes 12pm, 19 April 2012
Terms and Conditions are available here.
Find a festival to enjoy this summer with our convenient guide to all the best.
more blog posts