An Alternative Travelling Style With Wimdu
By: Zoe Harrington
Published: 10 July 2012
Tags: travel

If you're a passionate traveller, then staying in hotels is probably quite normal for you. But have you ever thought of how it would feel to enjoy the small comforts of a home while you are away? Just imagine being able to walk into a kitchen to make your coffee in the morning, or sharing a house with a couple of other travellers and making life-long friends. Wimdu offers this unique style of travelling - a real home away from home experience.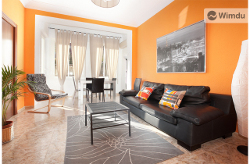 With "Travel like a local" as their slogan, Wimdu is an online platform that provides travellers with private accommodation all over the world - from a shared apartment in Paris, to a flat in Rome or a loft in New York City. This accommodation proves to be a cheap option for anyone travelling abroad, especially if you're going to be in the country for a couple of months. Rather than being confined to a small hotel room, You get to experience what it would feel like to really live in that country. Simply choose your destination of choice and book online. You can get a studio in Hong Kong for as little as £27 per night or an apartment in Barcelona for as little as £36 per night.
Wimdu also gives you the opportunity to make money while you're travelling by renting out your place to travellers coming to explore your home city. With a range of over 50 000 properties in more than 100 amazing countries all over the world, you have a great variety to choose from when you're looking for a home away from home.
To find out more or to take advantage of this opportunity to travel like a local, check out Wimdu: How it works.
more blog posts