We, The People Festival Followup
With We, The People Festival concluded for 2011 we thought we'd revisit the event and get some insight for those who couldn't make it.
We were delighted to have the opportunity to provide 6 pairs of tickets (including 1 VIP pair) to our readers in conjunction with We, The People and we took a few moments out to have a chat with one of our lucky winners - Lucy.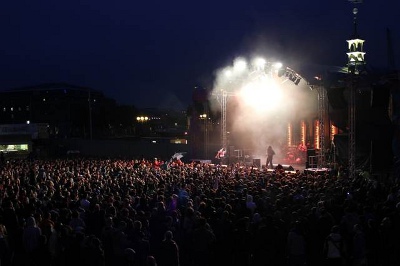 EssentialTravel (ET): Hi Lucy, so first off how did you find the Festival?
Lucy: I had an amazing time at the festival. The atmosphere was banging and everyone who attended enjoyed the same happy vibe. The drink prices were more than reasonable and I loved the addition of the tent stage.



ET: It sounds amazing, what was your favourite performance?
Lucy: Without a doubt my 2 favourite acts (I can't pick one because both days were so amazing) were Subfocus and The Streets. They were so good it didn't even bother me that I was raving in the rain and Mike Skinner was incredible. I have waited YEARS to see him and he definitely did not disappoint. Annie Mac, once again, was amazing - but she never disappoints.



ET: Raving in the rain, great stuff! Did anything else stand out that you weren't expecting? What made We, The People different?
Lucy: I loved the fact that while we were in a festival set on cobbles we saw a boat go past in the background of the main stage. It was so surreal. We also loved the fact that you could stand up at the back on the ledge section; it meant you could watch the sea of people getting involved, which was really cool.
We'll most definitely be keeping our eyes peeled for any announcements for next year to see if We, The People returns!
Until then, relive some of the best moments with this great video below submitted by Robin Johnson
more blog posts