"We Are Sorry To Announce..."
Christmas: a time for fun, festivities, parties and presents. Or, if you're in the travel industry, a time for delays, strikes and equipment malfunctions. An estimated 1-million travellers will have their plans thrown into chaos over the winter period if the increasingly-likely British Airways cabin crew strike goes ahead.
Those affected should take comfort in the fact that, compared to the three shocking flight experiences below, a cancellation pales into insignificance.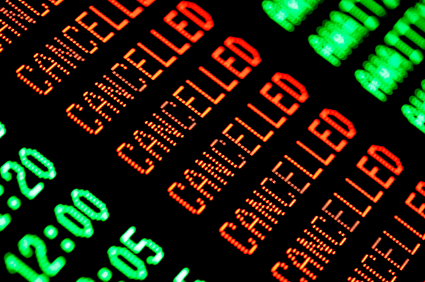 Problems Down Under
When a flight attendant called in sick for work back in October 2009, budget airline Tiger Airways were forced to cancel Flight TT567 from Hobart, Tasmania to Melbourne because they were unable to find a replacement. For three days. Anticipating an angry response, staff waited until the arrival of Federal police before announcing the cancellation.
In-Flight Meal
Three days would feel like a walk in the park to the passengers of Flight 571. Those familiar with Piers Paul Read's novel Alive (or the subsequent movie adaptation) will know of the real life story of a Uruguayan rugby team whose plane crashed in the Andes en route to Chile in 1972. At 12,000 feet altitude, the passengers had little food or heat, and when rescuers finally reached them 72 days later, the 16 people who were still alive had only remained so by feeding on the dead passengers.
Slightly Off Course
Technically still delayed, Flight 19 was a routine navigation training flight that took off from Fort Lauderdale, USA on 5 December 1945. After flying away from the coast, the crew reported some initial location uncertainties, before radio contact was lost altogether. A subsequent search could find no trace of the aircraft, and the unexplained disappearance still remains a mystery, made yet more spooky by the fact that one of the search planes itself disappeared without explanation.
more blog posts