Use Your Head This Ski Season
Hurrah! A brand new ski season is almost upon us! By now most of you have probably already booked your place at a resort and started planning which runs you'd like to do first. But before you bust out the skis and get covered in powdery snow, some sobering facts:
Fact: 75% of ski/snowboarders have been injured and required medical assistance.
Fact: 75% of those injured on the slopes were NOT wearing a ski helmet at the time. Fact: Wearing a helmet reduces the risk of head injury by 35%.
Fact: Snow, trees and other people are as hard as concrete when you are going up to 25 miles per hour.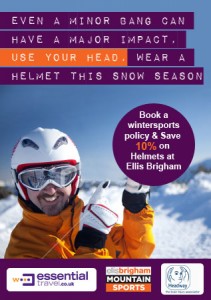 The exhilaration of skiing/snowboarding is what we all thrive on and keep going back for. But the importance of wearing a helmet cannot be denied, and it seems as though UK skiers are not heeding this valuable piece of advice. We recently surveyed our winter sports travel insurance users and found that 40% of skiers won't be wearing a helmet this season.
This year is time to take your ski safety seriously and get some protective gear around that head of yours. Our wonderful chums at Ellis Brigham have agreed to give 10% off ski helmets to everyone who purchases an Essential Travel ski travel insurance policy. So no more excuses!
On top of a nifty ski helmet discount, for every winter sports policy purchased to we're donating £1 to the fine work done by Headway, the Brain Injury Association.
So, skiers and snowboarders of the UK, please Use Your Head, and protect your precious noggin from bumps this season.
more blog posts