If you're only able to afford one break this year, make it one you can talk about for the next 12 months and book a night in one of these alternative hotels.
St Deiniol's Library in Flintshire
Choose your bedtime book from more than 250,000 tomes in this residential library. Founded in 1889 in North Wales (near Chester), St Deiniol Library now doubles as a hotel with 30 simple rooms, a restaurant serving homemade fare and conference suites. A peaceful atmosphere makes this one for quiet, studious types.
From £45 per person per night for B&B, plus dinner. www.st-deiniols.com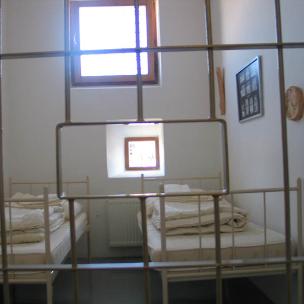 Jumbo Hostel in Stockholm
If you're sacrificing a long-haul flight for a holiday closer to home, get your fix by spending a night in the Jumbo Hostel. The grounded Boeing 747-200 is parked in the shadow of Stockholm-Arlanda airport and houses 25 rooms including a luxury suite in the converted cockpit. Guests even get to walk along the jet's wing observation deck.
From £29 for a dorm bed. www.jumbostay.com
Hostel Celica in Slovenia
Prison may not be everybody's idea of a break, but don't knock it until you've tried it. Hostel Celica in Slovenia have added a creative touch to former cells in a prison block in the centre of Ljubljana. You'll still find bars on the doors and windows of the 20 renovated cells, but you are free to leave at the end.
From £15 for a night in a cell. www.hostelcelica.com
Crane, lifeboat and lighthouse in Harlingen
Three alternative hotels can be found in Harlingen, Amsterdam run by the same innovative company. The dockside trio are mini hotels, each accommodating only two people at any one time, and offer an intimate, unique experience.
From £195 per night. www.vuurtoren-harlingen.nl
Controversy Tram Inn in Hoogwoud
Hoogwoud in north Holland is where you'll find two converted trains. Four rooms are furnished with salvaged and found objects, though there's also a touch of alternative luxury with a hot tub shaped like a Mexican sombrero. If you're in a large party can book the entire carriage.
From £51 per person per night, B&B. www.controversy.nl
more blog posts