Everybody loves trampolines. They are a genuine anomaly - healthy and fun! In a world where almost every form of decent exercise is painful and torturous, the trampoline offers you a breath of fresh air.
At last, someone in California has cottoned on to this and built a fitness center that offers people unlimited jumping access.
House Of Air is a new trampoline park in San Francisco, where people can bounce till the cows come home - no weights, ergo machines or treadmills. Just trampolines.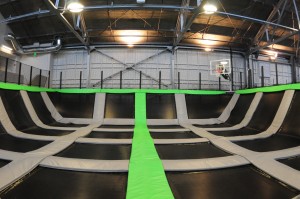 But its more than a fitness center. House Of Air offers trampoline games for kids, extreme sports training for all skill levels, social jumping classes and free jumping for those who want to try it out. Built in an old airport hanger, there is no shortage of space - the entire facility is 2,000 square feet.
There are five areas that facilitate different activities, all supported by trampoline walls for extra support, the execution of crazier manoeuvres and added safety. The Colosseum offers 22 conjoined trampolines for floor space - more than enough for the games of Dodge Ball and Trampoline Basketball that take place there.
The double bowl is a skateboard bowl replica, for those wanting to try new extreme sports moves. This is located at the north side of the Matrix - a training area that consists of 42 conjoined trampolines and enclosed by trampoline walls.
The Training Ground is a separate area for gymnasts, extreme sports athletes and trampoline experts who want to hone their skills by using the latest harness technology and bouncing aides. The height and distance they generate is enough to keep you watching all day.
It may all sound like a nightmare to parents, but there are a number of strict safety rules. The kids area (Junior Bounce House) is also monitored by Air Traffic Controllers (safety personal) at all times. Although House Of Air is not an entirely unique concept, the double bowl is a first to fitness centers. Still, you have to wonder how long it takes before these start replacing the treadmills that haunt so many gyms and houses?
more blog posts