There's more to travel than luggage restrictions, cheap airline food, BA strikes and volcanic ash flight cancellations. See below for three inspirational that will help make the horrors of the airport a distant memory.
If you're after a general guide, see Essential Travel's top ten tips on how to travel without flying.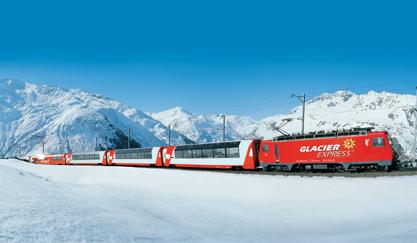 Glacier Express
Book a Eurostar from London to Paris (which can be as cheap at £59 return) before jumping on a highspeed TGV to Zurich in Switzerland. From here you can get a connecting train to Chur and then on to St Moritz (Paris to St Moritz, around £100). Of course, you can break up the journey and stop and sightsee in Paris, Zurich and Chur - that's the beauty of train travel! You can then join the Glacier Express at either Chur or St Moritz. The train heads south towards Zermatt and offers a 7.5 hour magical journey through Switzerland's snowy Alps and green landscapes reaching 2033 metres in altitude.
All Line Rail Rover
UK rail companies have kept this one quiet for a while - a one off ticket that allows you unlimited train journeys at anytime on most national rail services. The Rail Rover is a god send for anyone stunned by the cost of single domestic train tickets: a seven-day UK jaunt costs £430 (standard) or £650 (firstclass). We reccommend making the Ffestiniog Railway (the oldest independent railway company in the world) part of your journey. A ride takes you through 13 miles of North Wales's countryside from the harbour in Porthmadog to slate-quarrying town Blaenau Ffestiniog.
London to Morocco
For something a little more adventurous, how about a trip to North Africa without taking off. Start at King's Cross St Pancras and take the Eurostar to Paris. From here, head south through France on the Elipsos sleeper service to Madrid, Spain. The Altaria train (see Rail Europe to book) will then take you to Spain's southern port town Algeciras where you can pick up a ferry to Tangier in Morocco. It may sound like a palava, but factor in stops, sightseeing and stunning scenery and the journey becomes part of the holiday.
more blog posts