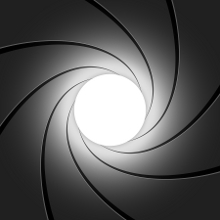 Suave... Sexy... Strong... Spy... that's right, we're talking about Bond, Britain's Bond. The man who always lives to die another day, just so he can only live twice, has been enthralling audiences with his dangerous death dances in exotic locations for fifty years.
To celebrate this feat I've chosen five of the most memorable mission locations and five of the most edge-of-your-seat-can't-look-away car chase scenes. If this Bond world is not enough, share some of your favourite Bond moments in the box below or comment on Facebook.
Your Mission, Bond...
...Will begin in the beautiful Caribbean, chasing down Dr No. Ian Fleming fell in love with the Caribbean while visiting there during World War Two and vowed to make it his home. In 1946 he did just that by buying a plot near the port of Oracabessa. Not only did he make it his home (which he called Goldeneye - a title used for one of his later books), he also made it a writing retreat and the birthplace of super-spy, James Bond. So it's fitting that this location was used in the very first Bond film.
...Takes you from the crisp cold of the slopes to the dry heat of the desert. James Bond is sent from the Austrian Alps to the Egyption Pyramids in the Spy Who Loved Me. The title for this Bond film was taken from the book, but the plot had nothing to do with the original story written by Flemming. This led to a novelisation of the film, James Bond, The Spy Who Loved Me being written in 1977 by Christopher Wood.
...Transports you to the moon, quite literally. While it may not be an earthly location, it's surely a beautiful one. This is where James has to go to save the world (once again) in Moonraker. The film was originally set for release in 1973 as Roger Moore's debut as Bond. However, it was put off until 1979, which meant it came out when the movie world was all about science fiction. While the film received very mixed reviews, it was nominated for an Academy Award for Best Visual Effects.
...Flings you into Hong Kong, the New York of the Far East. While its lights turn it into a glittering jewel at night, Bond sees it as an escape and actually swims to it in Die Another Day. He does this after stopping his heart to escape M and continue on his mission.
...Puts you on a train that twists and winds its way to the Eastern European country of Montenegro and to the high-stakes poker game to be played at Casino Royale. However, as beautiful as this location is, it isn't really Montenegro, but rather the Czech Republic.
Your Car 007, please try and return it in one piece...
While Bond always comes out of a chase with his wit still intact, his car does not often bear the same fate - much to Q's dismay. These are some of the epic car chases that start, and end, unexpectedly.
If anyone other than Bond was riding this motorcycle they would most certainly never, say never, again. In his usual slick style, 007 pulls off these bike manoeuvres with flair and ease.
The Lotus Esprit gave Roger Moore's Bond every opportunity to entrance the beautiful girl by his side with funny lines and big explosions.
It is not just for your eyes only, but also for the beautiful girl next to him that 007 shows off his driving skills when he outwits and out-drives the competition in a little Citroen CVs 2.
Showing us that technology never dies it only improves with tomorrow, Bond (Pierce Brosnan) flaunts his driving prowess without even getting behind the wheel.
There is no solace here, just power. That's all that is needed to describe both 007 (Daniel Craig) and the Aston Martin DB9 that show the world what a car chase is all about.
more blog posts