Top 3 Places To Let Loose Before Lent
A great excuse to tuck into fatty foods, throw a huge party and dance around in masks - festivals like Mardi Gras are celebrated throughout the world as the last night before the Christian ritual of fasting during the Lenten Season. What began as a way to have a little fun before toning down and behaving for 40 days, has now become a multitude of colourful festivals. Everyone has heard of Mardi Gras in New Orleans and the Rio Carnival in Brazil, but there are a number of lesser known festivals to enjoy - without the fear of meeting someone you know, wearing next to nothing and covered in glitter. Here are the top three unexpected places to descend into bacchanalia before returning to your angelic ways.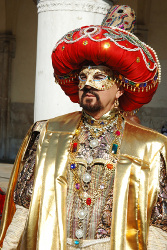 1. Baklahorani, Turkey
The pre-Lent festival of Baklahorani - in Istanbul - has been revived after a 70 year interval; the originally Greek festival was stopped after the prohibition against anti-Turkish celebrations in the early 1940s. That festival included a rogues gallery of the city's most debaucherous characters, but since its revival it has become a bit tamer. Don a fez, a fake moustache and maybe try some cross-dressing and celebrate the revival of the festival in Istanbul.
2. Intruz, India
Although India is often associated with bright colours and festivals such as Festival of Light or Diwali, it probably isn't the first place you think of for pre-Lent festivals. The Goa Carnival, known as Intruz (derived from the Portuguese for festival - Entrudo), is led by the fictional King Momo, who - every year - makes a royal decree that 'All his subjects shall let loose'. The festival is centred on the Goan city of Panaji, where you'll experience Indian music and dance with plenty of sunburnt tourists strolling about in a listless festival haze.
3. J'Ouvert, Trinidad And Tobago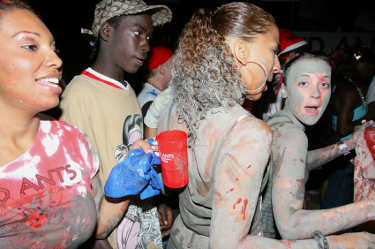 The small islands of Trinidad and Tobago manage to give the rowdier partiers at Rio a run for their money with J'Ouvert (a word derived from the French jour ouvert - meaning 'open day'). The Monday and Tuesday before Ash Wednesday each year are earmarked as the most important dates of the social calendar. J'Ouvert consists of parades with party-goers known as Jab Jabs waking up at the crack of dawn and literally slathering themselves in melted chocolate - yes, melted chocolate - amongst other oddities. The costumes worn by the party kings and queens are so outrageously larger than life that their wearers need to be on stilts to walk and lead bands and revellers down the streets. Unlike Rio this is not for a festival for the watching tourist - if you're not involved, you weren't really there.
So whether you're in the Turkey, India or the West Indies, now is the perfect time to let your hair down and welcome Lent by getting your fill of revelry. Just remember to have responsible fun (even though that may sound like an oxymoron).
more blog posts