Top 5 Offbeat Activities For Silly September
By: Gugulethu Hlekwayo
Published: 16 September 2011
Tags: humour
As the seasons change, you're probably running out of ways to spend your time, so we've made a list of fun and offbeat things for you to do this September.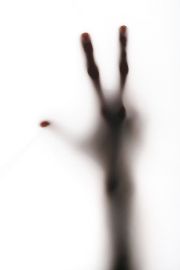 1. Step into the Twilight Zone
If you've ever hummed the theme tune to The X-Files when you see strange lights in the sky, or seriously questioned whether there is life on other planets, then you should definitely check out Weird 2011 Festival. This is an entire weekend dedicated to the exploration and discussion of 'the outer limits'. You'll be able to attend presentations by some of the world's most knowledgeable paranormal investigators, professors and even a few conspiracy theorists. Be sure to stick around for the fantastic audiovisual conceptual performance piece produced by the Programme Initiative. This show will depict a space exploration story in a spectacular display of music, live print, animation and interactive installations. There will also be an extensive market, offering all kinds of weird and wonderful books, paraphernalia and maybe even a few souvenir alien bobbleheads. For more info on Weird 11, visit weirdwiltshire.co.uk. Remember the truth is out there!
2. Tour like the Fab Four
If you'd like to know where John met Yoko, loiter outside Ringo's apartment building or even just see the stage where Britain's most beloved boy band became famous, then this unusual London tour is for you. Hosted by Diane Burnstein of Secret London Tours, the Beatles London walkabout is a must for any Beatles fan or lover of rock 'n roll history. You'll visit various landmarks that marked pinnacle points in the fab four's musical career and find out where the boys met their spouses, trashed hotel rooms and worked odd jobs. There's also an option to extend the tour with a short tube ride to St John's Wood to view the legendary crossing outside Abbey Road studios and Paul McCartney's London town house. Group singalongs of 'Yellow Submarine' are not included. For more information on Diane's tours, visit secretlondonwalks.co.uk.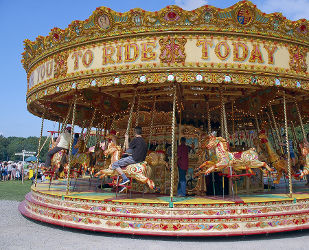 3. Time Travel
Well...not exactly, but you'll certainly feel like you've stepped back in time when you visit the Hollycombe Steam Fair. This traditional fairground is home to some of the world's last remaining steam powered carnival rides, providing the charm of yesteryear that modern theme parks lack. Take a spin on an authentic vintage carousel or jump out of your skin in a Victorian style haunted house! The carnival also boasts a wonderful old travelling bioscope, where you can see some of the earliest films in existence. For more information about the Hollycombe Steam Fair, visit hollycombe.co.uk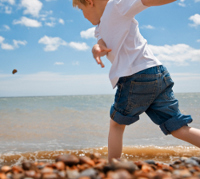 4. Become a Stone Skimming Champion
They say it's all in the wrist, and here's your chance to show off your stone skimming skills on idyllic Easedale Island in Scotland. The annual Stone Skimming World Championship will be held on the 25th of September. Anyone of any age can participate; just register on the day between 9am - 1pm and get skimming. If you're keen to make a weekend of this event, be sure to visit the pre-championship party on Saturday night where The Hollow Mountain String Band will be playing some toe-tapping old American style music. It's an old time hoe-down, and the whole family is invited. For more information, entrance fees and prizes, visit stoneskimming.com.
5. Have your Picture Taken with a Prime Minister and a President
No, we didn't say THE president, we said A president. If you're bored of your current Facebook profile picture, take the opportunity to visit the Allies sculpture in central London and snap a picture of yourself sitting between Churchill and Roosevelt. It's a lot easier than standing outside Parliment or booking a ticket to Washington after all (note how shiny Churchill's right and Roosevelt's left knees are from visitors giving them a rub)!
more blog posts