The Sea Sense Campaign In Cornwall
By: Clayton Truscott
Published: 22 August 2011
This weekend, the winners of our Sea Sense Competition, Andy and Louise, headed down to Perranporth Beach for a weekend of kiteboarding, surfing and general shenanigans. With August weather conditions being somewhat skittish over the last few years, there were a few worried faces in the Essential Travel camp - would the wind howl, the rain pour and the sun fail to show up?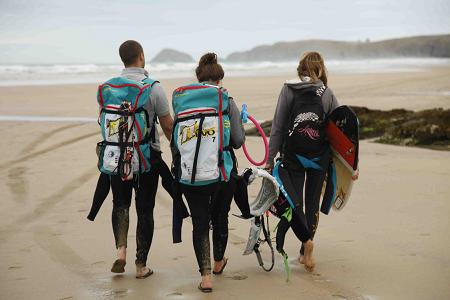 The weather gods smiled down upon us all though, offering windy and slightly overcast conditions on Saturday - perfect for kiteboarding lessons. The face of the campaign, Kirsty Jones, arrived looking fresh as a daisy and ready to put Andy and Louise through their paces. The conditions were so conducive to kitesurfing that a whole throng of other kitesurfers turned up to take advantage of the offshore winds - there was even a man in a kite-pulled speed buggy who was doing close to 60 km/h across Perranporth's shoreline.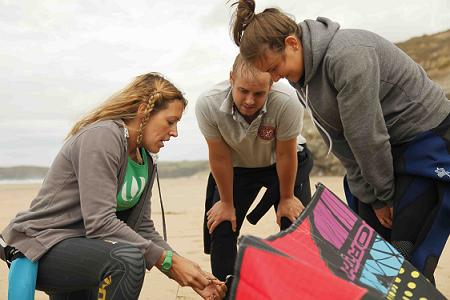 Learning to fly a kite that could have you in Australia by lunch (if you get caught in a seriously strong gust) is rather intimidating. But Kirsty hasn't won multiple world titles for nothing: her expertise, natural elegance and friendly demeanor put our winners at ease and set the pace for a highly enjoyable afternoon of Kitesurfing 101.
By the end of their three hour lesson, both Andy and Louise were flying their kites with ease and revelling in the conditions. After their first session, we caught up with them to see how it was going...
Essential Travel: How was it?
Andy: Really good! Yeah, we really enjoyed it. It was our first time, so we weren't really sure what to expect going in to it. But I loved it. I'm definitely going to give it a go again.
Louise: I had a great time!
Essential Travel: Were you guys chilly?
Andy: Not at all!
Louise: No, the westsuits did a really good job. I wasn't cold at all.
Andy: Yeah, I got plenty of insulation - from the wetsuit and the bells (laughs).
Essential Travel: What was the highlight of your learning experience?
Andy: Getting latched into the harness and feeling the wind pull you!
Louise: It takes a bit of getting used to - like your control over it: I still feel like I don't have control over it (laughs).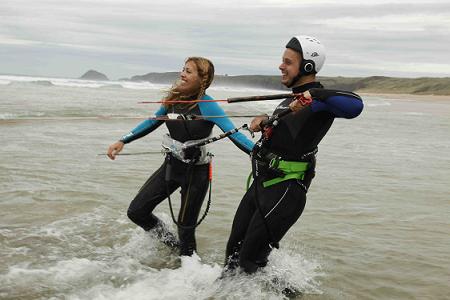 Essential Travel: You seemed like you were getting the hang of it and doing really well.
Andy: Hopefully! It's one of those things that you look at and think, 'ah, it's too much bother to learn - it's too hard'. But once you get into it and you see it's quite easy to learn and control, it's mad fun!
Louise: We had a great teacher...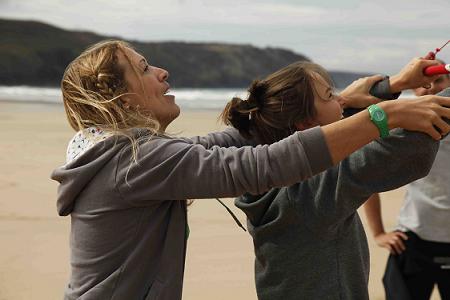 Essential Travel: And you guys are looking forward to tomorrow's surfing lessons?
Andy: Yeah, I've been on a board before, so I'm looking forward to getting back out there...
Essential Travel: Thanks so much guys, have a great time.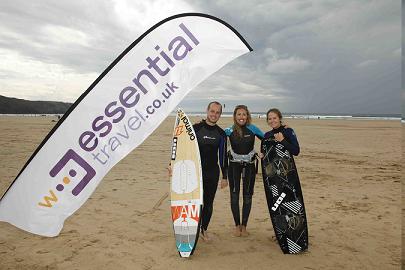 THANK YOU!
All of us at Essential Travel would like to thank Kirsty Jones and the good people from Ticket To Ride for all their help with Sea Sense. Another massive 'thank-you' needs to be said to Will Currie (from Vertical Productions) for taking all the beautiful pictures - this meant wading knee deep into the water and standing in the teeth of the wind for hours! The message has always been to emphasise the importance of staying safe in the water and to cap off this great campaign with a fun weekend and two great winners like Andy and Louise has made everything worthwhile!
more blog posts