Scary Festivals This October
Published: 03 October 2013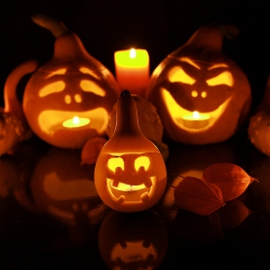 October is Halloween month, a time when mythical creatures come out to play and ghosts are rumoured to roam the streets. While trick-or-treating is fun, there's nothing quite like going a little crazy while in the midst of a creepy festival. Grab your friends, don your finest white sheet (don't forget to poke holes for the eyes and mouth), and enter into the ghastly world of the Scariest Local and International Festivals on offer this month.
In The United Kingdom
Oxford Castle Ghost Festival - Oxford
01 October - 28 November 2013
Every night this October and November, Oxford's famous 1000-year-old castle will host a Ghost Festival. Arguably the best part of the festival is the Spooky Tour, an adventure that will not only take you through the shadowed corridors and eerily-lit former prison cells of the historical building, but also teach you about the castle's darker past and relay tales of deceased residents who continue to roam the hallways. You can also take part in the Murder Mystery Evenings where you walk through the ominous arches and creepy corridors of the D-wing - a former prison - all the way to the depths of a 900-year-old crypt. And if the stories of public hangings and paranormal encounters doesn't turn your stomach too much, you can try the After Dark Dinner - but beware, it certainly won't be your average meal.
Grimm Fest - Manchester
02 - 06 October 2013
Are you a fan of Horror films? If you are, then Grimm Fest is an experience you cannot miss. With more than 20 film screenings during the five day festival, fans can enjoy a string of the most acclaimed - and goriest - horror movies. The festival also features a few special events, including a workshop with SFX legend Shaune Harrison from World War Z, a Q & A session with selected directors and actors, as well as screenings of famous horror films like Curse of Chucky, On Air, Antisocial, John Dies At The End, and The Machine. With this kind of lineup, both the timid and die-hard horror film enthusiasts will have something to scream about.
World Zombie Day - London
12 October 2013
For a really fun event with a great cause, head to central London for World Zombie Day. The international annual event is held in more than 50 cities worldwide in a bid to raise funds for hunger relief. Everyone is welcome to attend as the event is free, although you do have to fulfill certain criteria: ideally, you'll receive an invitation to the event from the organisers, if your invite got lost in the mail, fear not, you can purchase a ticket to see the zombie films being screened later that night, which will also give you access. If all else fails, rock up in your best zombie ensemble. The London event will host a special "Meat N Greet" on the day, serving bloody Sangrias and tasty brains - I mean snacks - for all zombies in attendance.
All the money raised will go to St Mungo's Shelter, who have provided support to the homeless since 1969.
Shocktober Fest - West Sussex
October - November 2013
This Halloween, the south England county will host Shocktober Fest, a festival that promises to provide visitors with interactive haunted adventures. Be sure to open the doors to The Cellar Haunted Houses carefully - the place is rumoured to be filled with snarling beasts. And if you're good with directions, then you can try the Twisted Maze, however, if you're like me and you get lost on your way home, then you best have your wits about you. Once you've explored the house and made your way through the maze, you should have a go on the Haunted Hayride, which uses pyrotechnics to make you feel like you're in the middle of a horror movie. While there are many other attractions at this year's festival, the rock concert is a must-see. It takes place in a dark forest, and legend has it that all the band members turn into zombies who can't do anything but play music.
Frighteningly Bizarre Festivals Abroad
Emma Crawford Festival - Colorado, USA
26 October 2013
"Over my dead body" is usually what you think when someone suggests you hop inside a coffin, but this isn't the case in Manitou Springs. For the people of this community, the life of Emma Crawford is celebrated with an annual tradition of coffin racing.
Emma Crawford died with one wish - to be buried on top of Red Mountain. Her coffin was carried up the 7200 foot slope, believed to be her final resting place. It wasn't. Two decades later, the coffin washed down the mountain, scattering Emma's remains. Some were found and reburied in an unmarked grave, but locals believe she'll keep haunting the slopes of Red Mountain, unable to rest until all her remains are buried at Red Mountain, the place of her dying wish.
The festival also features Ghost Stories Walking Tours, which tell tales of other deceased residents from the town. Turns out quite a few have died in remarkable ways and legend has it that at least one new ghost comes back to visit on this special night of fright.
Phuket Vegetarian Festival - Phuket, Thailand
5 - 13 October 2013
The Vegetarian Festival in Phuket isn't really a Halloween festival, but that doesn't make it any less scary or bizarre. It actually sounds quite harmless, until you find out what exactly it entails. Celebrated annually to bestow good fortune on those who observe the religious rituals displayed, participants are required to adhere to a strict vegetarian diet for 10 days. This simple act of spiritual-cleansing, however, is where the mundane ends and the incredible begins.
During various street processions, devotees, in a bid to remove evil spirits, pierce their faces with swords, daggers, skewers, barbed wire and axes. However, even with gaping holes in their cheeks, lips and tongues or blood streaming down their forehead, the physical damage is at an absolute minimum. Using their faith they transcend the pain, wounds hardly bleed and devotees leave feeling refreshed.
more blog posts