Round the Country World Cup Tour Diary
My friend and his fiancee have just embarked on a long road trip, following the World Cup around the country. Their journey takes them from as far west as you can go, Cape Town, to the opposite side of the coastline, Durban (1700 kilometers), before they head inland. The itinerary looks like this:
Saturday: Drive from Cape Town to Port Elizabeth
Sunday: Drive from Port Elizabeth to Durban (in time to catch Germany Vs. Australia)
Monday- Wednesday: Enjoy Durban and catch a few games at the local pubs.
Thursday - Friday: Polokwane (France Mexico)
Saturday - Monday: Johannesburg and Bloemfontein
We got in contact this morning and caught up on the action they've seen so far:
They made a brief stop in Port Elizabeth before driving on through the night. First towards East London, then into the Transkei. The Transkei is where Nelson Mandela was brought up. It's as old and unchanged as it was 200 years ago.
The roads are riddled with potholes, unpaved in places, and you often have to wait for cows to get out of your way -there are cows everywhere in the Transkei. As the sun started to rise, they were greeted by rolling hills, the most beautiful beaches in the country and more cows. In the smallest towns, where there is little to no outside influence or much electricity, they were surprised by how full of flags it was. There is incredible support for South Africa's football team across the country.
They made it to Durban, in time for the first game at the brand new Moses Mabhida Stadium.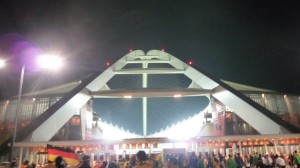 Arguably the most impressive of all the stadiums, the Moses Nadhiba boasts a unique design seen nowhere else on earth. The arch that stems above the sports field is an nifty bit of architectural innovation. You can take a cable car above the stadium and watch some of the action from 106 meters above the pitch.
more blog posts