The Risks Of Surfing the Internet In Turkey
What are your biggest fears when travelling? Getting pick pocketed? Losing your passport?
What if you use internet cafes while you travel? Or perhaps you connect your laptop to an unsecured wireless network? Is there really a risk of getting hacked while you're on holiday?
The answer is yes and unfortunately Turkey - one of the nation's favourite holiday destinations - has been named the riskiest country in which to surf the net.
Anti-virus software heavyweights, AVG, recently took the time to assess where cyber crime is most rife. They checked 127 million computers in 144 countries, to see how many viruses and malware threats took place in each one during the last week of July.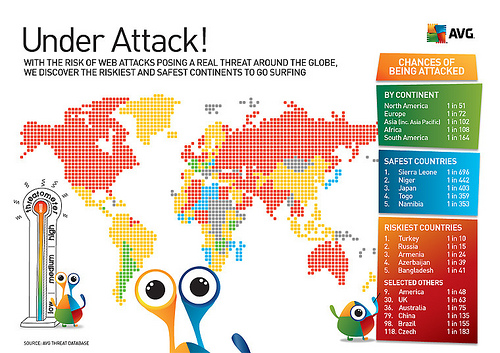 Turkey topped the table as the riskiest place to be online, with 1 in every 10 users exposed to Internet threats. Russia came in second, only just, with 1 in every 15 users being exposed to threats. The UK waddled in at number 30, with 1 in every 63 users running the risk of attacks.
The safest place on this list was Sierra Leone, quite ironically, seeing that until recently it was probably one of the most dangerous countries to visit for other reasons.
What does this all mean? According to AVG's Tony Anscome, the best way to play it safe when travelling with a laptop is to remove anything you don't want stolen from your computer. Back it up and leave it at home. This includes bank details, card numbers and personal details like your ID/ passport number.
If you are using a public computer or a friend's laptop, don't store any passwords. Most importantly, remember to log out of social network sites. The last thing you need is an 11 year old Turkish boy chatting up facebook friends on your behalf.
more blog posts