The Record Breaking Surfers of Earth Wave 2010
More than 500 people are expected to participate in an attempt to break the Guinness World Record for 'most surfers surfing on a wave at the same time', next weekend. The record breaking attempt will take place as a climax to the annual Earth Wave Beach Festival in the Capetonian village of Muizenberg (South Africa). Last year attendees broke the Guinness World Record for most number of surfers on a single wave, when 110 people successfully rode in unison for more than 5 seconds.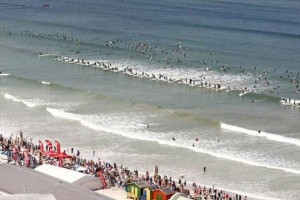 Besides setting a world record, the main aim of Earth Wave is to raise environmental awareness. There will be talks and demos for new eco-friendly products and and sustainable energy sources. Also high on the list of causes is support for the Shark Spotter Program, which plays a large role in making the crowded waters at Muizenberg a safer place for people.
Other activities for the weekend include a Pro Longboarding contest, a Stand Up Paddle-board race, bands, raffles, giveaways, beach games, movie showings and a huge closing party on Sunday night. Almost makes you feel sorry for everyone on Monday morning... Almost.
Click here for more information about Earth Wave Beach Festival.
more blog posts