Newcastle Airport Parking Summer 2013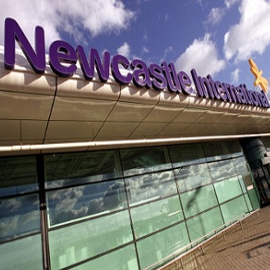 Following a recent trip to the United Kingdom's most punctual airport (84% of flights leave on time), I wanted to discuss the best airport parking options for the different types of travellers going through Newcastle Airport this summer. With Newcastle Airport set for its busiest summer season yet (with the seemingly monthly, exciting new flight destinations opening up), it's more important than ever to ensure you choose the right airport parking supplier for your trip.
If it were me...
In my opinion the best option in terms of both price and convenience is Park and Fly. This car park is located adjacent to the main entrance to the airport and provides a free transfer service, which only takes two minutes. Customers drop off their car at the reception and it is parked for them. Park and Fly regularly receives excellent feedback (96% from over 2,200 Essential Travel Airport Parking customer reviews), making this car park the undoubted number one choice.
Prefer to park your own car?
If you'd prefer to park your own car then select the Official Long Stay Car Park. Simply turn up, park your car and make your way to the nearest bus stop. Free transfers operate 24 hours a day and only take a few minutes. Look out for the "non-flexible" option which works out cheaper, although it does mean you can't amend or cancel your booking.
Looking for hassle free arrival?
If you're looking for the quickest and simplest way to park then select the On-Airport Meet and Greet. With this parking option you're met outside the terminal building by a chauffeur who'll park your car for you, saving the hassle and time required to catch a transfer bus. This is highly recommended for business travellers and anyone else looking for an extra special start to their holiday. This parking option does cost a little more than other car parks, but if time is of the essence or you're worried about dragging your luggage around, it's well worth the money.
Park off airport to further cut costs
All of the above car parks are official car parks, meaning they are both owned and operated by Newcastle Airport. We also offer parking off-airport with Airparks, which is a leading provider of parking at a number of UK airports. Although it's a little further from the terminal it can often offer great value parking.
Early flight or long drive to the airport?
Alternatively, if you have an early check in time at Newcastle then it's worth taking a look at the hotel and parking packages available at Newcastle. You can choose from a wide range of hotels - from the budget Premier Inn to the more luxurious Hilton Hotel. All our airport hotels are conveniently located for the airport and offer packages that include parking for the duration of your holiday and an early morning breakfast. Staying overnight definitely beats driving through the night to catch that early morning flight.
more blog posts