Mothers Against Naked Riding
By: Gugulethu Hlekwayo
Published: 10 January 2012
Tags: promotions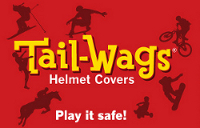 The people at Tail Wags Helmet cover have started a social media campaign against children riding naked - with naked heads that is! Their intent is to encourage young people to wear helmets when engaging in wintersports (like in our Use your Head campaign), riding horses or just taking a bicycle ride down the road. Watch these videos to see what Mothers Against Naked Riding is all about.
Karyn Climans, founder of Tailwag Helmet Covers, talking about the campaign:
Join their campaign on Facebook or use the hashtag #StopNakedRiding on Twitter to support the cause.
more blog posts