Marathon Training Like A Professional
The London Olympics 2012 saw 962 medals awarded to the world's most deserving athletes. Of all of these events, marathon running is undoubtedly one of the greatest tests of physical endurance and mental assiduity. The training needed to compete in a marathon requires the utmost dedication - and of course a well-developed training programme to ensure that you're making the most of your potential.
Essential Travel had the privilege of chatting to Cornelia Burki, a previous Olympic athlete for Switzerland, who was kind enough to provide us with a marathon training programme. Although suitable for all athletes, this 10 week programme does assume that you have a basic level of endurance. Muhammed Ali perhaps best sums up the challenges of training: "I hated every minute of training, but I said, Don't quit. Suffer now and live the rest of your life a champion".
For further insight into the world of professional athletics, check out our interview with former Olympic runner and world-class athlete, Zola Budd.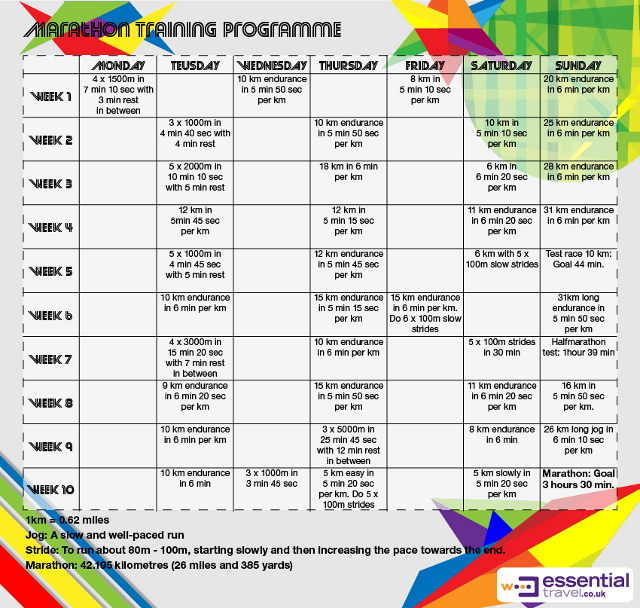 To copy & embed this program into your website just use the code below:

<a href="https://www.essentialtravel.co.uk/blog/marathon-training-schedule.html"><img src="https://images.essentialtravel.co.uk/blog/marathon-training-programme2.jpg" alt="Essential Travel - Marathon Training Schedule" width="640 height="608" /></a><br>Image by <a href="https://www.essentialtravel.co.uk/">EssentialTravel.co.uk</a> more blog posts