London Film and Comic Con
By: Gugulethu Hlekwayo
Published: 07 July 2011
Tags: events
Do you remember a time when geeks and nerds were a fringe society - locked away in their parents basements, plugging away at their computers...? Neither do we. These days you're more likely to see alpha-geeks like Mark Zuckerberg and Steve Jobs on the cover of Time magazine. The geek has inherited the earth and gatherings like London Film and Comic-Con are now at the forefront of pop culture. This year's event will be held at Earls Court 2 from the 8th to the 10th of July.
Who To See: Famous attendees of this year's show read like geek royalty: Doc Brown from the Back to the Future trilogy, the who's who of Dr Who, T-Bag from Prison Break and Heroes, Data from Star Trek and the immortal Connor Mcleod from Highlander will be mingling with fans on the convention floor.
What To See: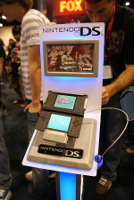 No geek gathering would be complete without toys, trials and trailers. The Nintendo Unleashed tour will be showcasing the Nintendo 3DS for portable gaming, playable trials of Legend of Zelda and other next generation Wii games. As sponsor of the event, Universal Studios will be releasing a number of trailers and exclusive footage. If you're more old school, the 1960s Batmobile will take you back to a time when Batman preferred a Ford. With a fully functional jet afterburner and batgadgets, all you need is a cave and a billion pound inheritance to complete the fantasy.
What To Do: Of course the real stars of the show are the fans themselves (i.e you). It's time to dust off the Star Trek uniform and put on the robe and wizard hat for some weird and wacky cosplay (layman's definition: dress up like your favourite sci-fi or fantasy show). The best dressed/robed/costumed wins the daily prize of £100.
The show opens on Friday at 6pm for £5 entrance. During the weekend, it opens at 11am and closes at 6pm - standard entrance fee is £6. Early entrance is at 9am for £12. For more information see londonfilmandcomiccon.com.
more blog posts