Lomography Interview
By: Clayton Truscott
Published: 01 September 2011
Tags: technology
While most of us grew up waiting for our holiday pictures to be developed before seeing them, the digital world has ushered in a new generation of kids who've never had to wait more than a few seconds to see what they look like posing on the beach. For a long time it seemed as if the old days of film photography were over, until a blast from the past came to the rescue...
Lomography is taking the photographic world by storm. Everyone in places from Old Street to Timbuktu is getting involved and going back to the film camera of yesteryear. To get the scoop on what these cameras are, how they work and how you can get your hands on one, we chatted to Lomography's UK Online Manager, Heidi Mace, and got some answers.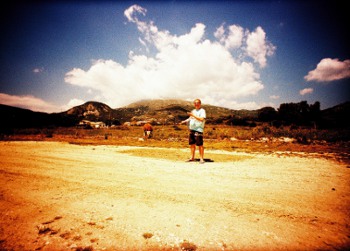 Essential Travel: In a nutshell, what is Lomography?
Heidi Mace: Lomography is the world's largest creative analogue photography community. So, Lomography only works on film - we don't do any digital photography. We are bringing back film! It's a huge international community of photographers who are all joined by one thing: really exciting photography.
Essential Travel: Tell us a bit about the workshops available to budding Lomographers.
Heidi Mace: We've got around 40 Lomography gallery stores around the world, and more opening up all the time. And at every one of those stores there is at least one workshop a week, and the workshops can range from working with and using particular cameras, to interesting techniques like light-painting in the dark or drilling holes in your camera for particular effects. All sorts of things! They're always really fun, not professional, and everyone can give it a go, even more experienced people wanting to try something new, and absolute beginners are welcome.
Essential Travel: How easy or difficult are Lomography cameras to use?
Heidi Mace: They are different from a digital camera. The main difference being that you can't take a photo and immediately look at it, which is strange to get used to for those who've only used digital for a while. But that means you've got the excitement of waiting for your film to get developed.
The cameras themselves are fairly simple. Most of our range are plastic with plastic lenses, which are known as 'Point And Shoot' cameras. There is not a lot of difficult fiddling about with them; you don't have to set the aperture on most of them: but then with that you can get really creative and you do the work rather than the digital camera automatically doing the settings to make a perfect picture. You can get something quite unusual that looks really different from other people's photography. And you can really play with the film, colours and focus to get quite artistic with it.
Essential Travel: And are there any limits to the range of images people can shoot on holiday? Long distance shots, for instance?
Heidi Mace: No, the sky's the limit. Our 'fish eye' cameras are very popular for holidays. They do that great lens effect where it puts everything into a circle; these are really great for snow sports: they take advantage of the scenery by allowing you to pack everything into one shot. These are equally great for the beach: there is an underwater case for the fish eye going under water. And those are one of our more cost-effective kinds of cameras.
Up in the premium range, we have the LCA - the camera this company started with - which is a really great camera because it's got an internal light meter. So, you can use it at night, in subdued lights - wherever, whenever - and it will always take good shots. It's also compact, so it fits in your pocket.
Essential Travel: What is the best way for people getting started to get involved?
Heidi Mace: The best thing to do is go on the website and from there you'll find a whole online magazine with articles about different things going on around the world. All the events and workshops are on there. We do lots of parties, in-store gigs, and that sort of thing for people to come along to. We also do lots of events in places where there are no gallery stores, so there will always be something to get involved in.
Also, there's a whole section of 'Tipsters' so you can read great advice from fellow Lomographers on how to go about shooting, what film to use, etc. There are absolutely thousands of articles, so there's lots on there to read. For example, LomoAmigos which is where famous and interesting people shoot a gallery of photos: Elijah Wood's done it, Dazy Lowe's done it, the Cold War Kids have done it, so there is lots on there to get your teeth into. You can also buy all the products there.
Another thing that's really good is Lomo Locations. It's user-generated, so the Lomography community around the world can submit photos and information of the locations where they most like to take photographs. So, there will be some beautiful photographs of their local cafe or an amazing beach, and a bit of a description about why they like it and the best conditions to shoot in. So, if you're going travelling, it's a really great resource, because you can search it on the map and look at the area you're going to, read people's real-life tips, and see their great photographs of the area.
Essential Travel: Are the cameras expensive?
Heidi Mace: The cameras range from £35 to about £400, but to be honest most of our cameras are under £100. So, it's very much an affordable way of experimenting with photography.
Tips On Taking Photographs
For more great tips take a look at our new article How to take holiday photos.
Win One Of Three La Sardina Lomography Cameras
Essential Travel are giving away three La Sardina Lomography cameras, take a look at the Essential Travel Facebook page for full details.
more blog posts