How to Recapture your Childhood…and Travel
Do you remember how intense everything felt as a child? How buttery yellow the daffodils were or how mystical that crumbling holiday cottage in Cornwall was, with the sound of crashing waves? It's a fact that life becomes just a little bit more normal every year we age: the ghosts under our beds turn into mothballs and the fairies into pollen that makes us sneeze. With a little bit of imagination, however, you can easily recapture your childhood, especially on holiday.
Tip 1: Pick Up The Paperback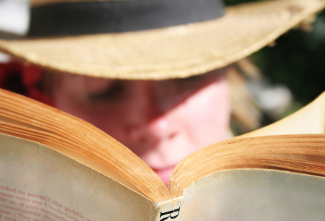 Reread your old favorites. Everyone has that collection of dog-eared novels that they have taken with them from their childhood and which offered a haven throughout the trials and tribulations of adolescence. Whether yours is Where's Wally or Catcher in the Rye, pack your old favourite with your sunhat and feel 12 again. If your old paperbacks have long ago gone the way of the charity shop, rediscover them on your Kindle. Remember Amazon provides classics for free.
Tip 2: Play It Again, Sam
A song can so easily transport us back to a particularly powerful moment in our past. Before you pack-up your SUV and head for the hills, why not make yourself a mixed CD of all your old favourites – great for off-tune sing-alongs and creating new memories with your own kids. Bob Dylan or the Bee Gees anyone? If you don't want to go the iTunes route, MixPixie offers an easy way to create personalised CDs.
Tip 3: Grab Your Nikes And Just Do It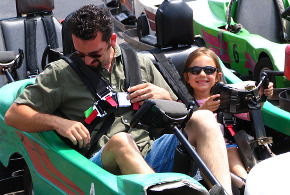 If there's one characteristic that groups most children together, it's their fearlessness. Now we're not suggesting you climb the highest tree or turn off the central heating and go survivalist in winter, but there are certainly safe and well-regulated ways of being adventurous: go-karting and zorbing come to mind – and now that you're all grown up, you can take out travel insurance too - just in case.
Tip 4: Put Pins On A Map
What's the difference between you and a 10-year-old? Well you have more wrinkles and more cash, in other words you can dream and do. It's time to take out that old dusty world map, put a few red pins on the places you really want to go to and then gradually replace them with green pins, as you travel to those destinations. More keen on a virtual pinboard? Try FourSquare's take on sharing your travel experiences.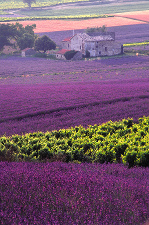 Tip 5: Smell Your Way Back In Time
One of the most charming aspects of travelling is the new sights, sounds and smells. Good smells are also the most effective way to evoke an old memory. So now is the time to go chocolate tasting (London itself has plenty of options), stop at a sidewalk café for a crêpe and fresh coffee, tour a perfumery and visit a rose garden taking a sneaky sniff of the blossoms - it's bound to evoke a memory or two. Experience Paris offers organised workshops for creating your own perfume with the Perfume Studio.
Tip 6: Have A Party
Your buddies may all be in their deepest 30s now, but there is no reason why you can't arrange a weekend birthday getaway, replete with mini-golf, ice-cream breaks, ice-skating and cheesy posed photos. Remember, this time you have a credit card – who needs pocket money? If you've forgotten what it's like travelling with friends, read our handy how to guide here.
Tip 7: Hire The Same Old Beach House
If you're lucky, the same beach house or timeshare that your parents used to use will still be available for you. Make a pilgrimage back to your childhood holidays – and don't forget the old photo albums for optional reminiscing. Visit Cornish Traditional Cottages to help you to locate your childhood gem.
Tip 8: Go Medieval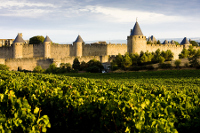 The best thing about medieval villages in Europe is that they often have a resident ghost or two. Remind yourself what it's like to be a child being told delightfully toe-curling ghost stories and stay a weekend in a Medieval village or near a castle ruin. Carcassonne in the South of France is a classic walled city but there are hundreds to choose from in Europe.
Tip 9: Look For Fairies
Ireland is a prime spot for fairy spotting. Blarney Castle's gardens feature 600-year-old Yew Trees and a Willow tunnel. With gentle waterfalls and twisted roots, you may not see a fairy, but you'll feel them nearby.
Tip 10: Go To A Theme Park
You're never too old to go to the London Dungeons or Thorpe Park. Scream like you're 8 again – but be warned you might not be able to handle as many toffee-apples as you did back in the day.
more blog posts