Hello Kitty Themed Jet Takes To The Skies
Published: 11 September 2013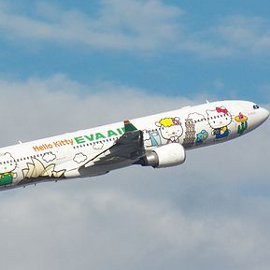 Gone are the days where you have to fly in a traditional white and blue airline with seats, trays and head covers that are all the same colour. Two years ago Tapei-based airline EVA Air shook things up a bit and took travellers back to their childhood days when they launched a fleet of aeroplanes decorated wheel to wing with the face of the fictional Hello Kitty character. The venture must have proved very popular, because more Hello Kitty inspired jets are taking to the skies.
Hello Kitty Jet Japan
It all started in 2011 when EVA Air wanted a unique way to celebrate their 20th anniversary and promote Japanese culture. And what better way to do it than teaming up with one of the most popular Japanese brands of the century, Hello Kitty creators, Sanrio. The Hello Kitty themed fleet, which has planes such as Magic Stars, Around the World and Speed Puff, initially only catered to Asian passengers. However, this will soon change as travellers in Los Angeles can also take part in the experience when EVA Air brings the planes to the popular city in mid-September.
Your Hello Kitty experience begins at the boarding gate with your baggage tag and boarding pass featuring the cartoon cutie. In flight, the aeroplane will boast over 100 service items in the Kitty motif, which is includes everything from the headrest cover and pillow to the airsickness bag and toiletries. And let's not forget the menu, tray mats, napkins and utensils. Even the food can be expected to arrive in the shape of Hello Kitty's face or bow.
For its maiden voyage to Los Angeles, the 312 passenger aeroplane will host a special group of Hello Kitty fans. And to make the journey extra special, on board fans will be allowed to participate in an autograph session with the Hello Kitty designer Yuko Yamaguchi and attend the official launch party in Los Angeles as guests of honour. The President of EVA Airways, Chang Kuo-wei, is also expected to pilot this flight.
Since Hello Kitty is a brand that reaches audiences throughout the world, EVA Airlines also plans to take the kitty inspired jet to Europe. If their previous plans are any indication, travellers won't have to wait long for the European debut of the airborne feline.
more blog posts