If you could be any animal, what would you be? A bird, a dolphin, a lion... how about a hamster? Not your typical choice, perhaps, nor particularly glamorous, but apparently there are plenty of people actively willing to live like a rodent.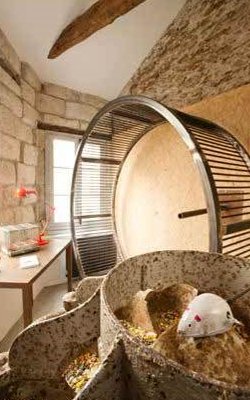 La Villa Hamster - a new themed hotel in France - has been booked out since it opened a couple of weeks ago. The one-room hotel offers a boxy space complete with bowls of grain, sawdust, a water tube to drink from, a bed you can only reach with a bit of a scramble and, most importantly, a human-sized hamster wheel on which guests can spin to their heart's content. To help get into character, the hotel provides hamster head gear - a sort of furry hat-mask with ears.
Creators of the Nantes hotel, Yann Falquerho and Frederic Tabary, were hoping to design an eccentric place that would be 'very funny'. If the idea appeals, look out for the pair's oddball humour this side of the Channel, as they have plans to open a similar space in London. Those not quite ready for life as a hamster better brace: their next idea is a hotel that takes you back to your roots - as in, your mother's womb. Bet the hamster hotel sounds good now!
more blog posts