'Travel Gems' Guest Blog Series: Torre DeRoche
Everyone has a personal Travel Gem: a place that is special for one reason or another. For some it might be the steps of the Pantheon, where they shared their first kiss with a lifelong partner, for others it may be their grandparents' beach house in Cornwall.
As part of a new blog series, we thought it would be a great idea to ask a few experienced travel writers to tell us about about their personal travel gem. This week we are very privileged to have the charming and witty Torre De Roche, from the hilarious Fearful Adventurer travel blog.
A Celebrity Retreat on the Cheap
By Torre DeRoche
There's a luxurious place near Byron Bay, Australia, where you can go to recharge your batteries, balance your soul, discover your inner-Buddha, and empty your bank account in one fell swoop.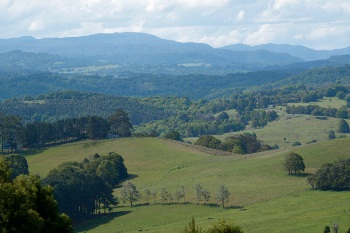 At a whopping $800 per night, the Gaia Retreat is a place that celebrities, CEOs and Bridezillas get helicoptered into, so that they can light fire to large mounds of spare cash... in serious style.
Co-owned by Olivia Newton-John, the sumptuous retreat is set on 25 acres of rolling subtropical valleys, and overlooks the hinterlands on one side, and the ocean on the other. As well as luxury accommodation, the price includes delicious fresh organic cuisine, and a range of activities, like fitness, meditation, yoga, art, detox, a day spa, walks around the vast property and tennis.
I know what you're thinking: why the heck are you tempting me with outrageously expensive accommodation? Forking over this fee for a bed and a meal isn't what non-celebrities would call 'rejuvenating,' so I'm here to give you the secret to indulging at the Gaia Retreat on a slim budget, otherwise known as Torre's Cheap Guide to the Gaia.
It's possible to simply book a treatment at the spa and get access to the facilities for the day. You won't have a room, but you'll get to relax on a pool-side lounge, take a dip in the spa, and dry your cheap posterior on the lush towels and robes supplied to you when you book a treatment. You can walk around the huge property, lie on the day beds, and meditate alongside the Buddha sculptures for your next Facebook profile picture (if being a pompous poser is your thing).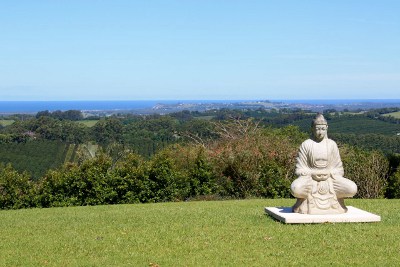 A 60 minute Swedish massage will cost you $130, while the heavenly Byron Bay Dream for Lovers - a 2.5 hour spa package for couples - will put you out $310 each, but I can guarantee you it'll be an out of body experience that'll be etched in your pleasure senses forever more. Or, it's possible that you'll be so relaxed from the scrubbing, massaging, and bird-song soundtrack that you'll fall asleep and miss the whole thing.
If you get hungry, you can enjoy an organic vegetarian lunch for a reasonable $25 at the restaurant, or for $65 you'll get a three course set menu dinner on a deck that overlooks the stunning area.
So if you're up for some luxury on the cheap, dress up in your finest threads, adorn with your rip-off Prada sunglasses, and don't forget your $8 Yves Saint Laurent handbag from Thailand as you wander around the grassy hills of the Gaia Retreat, breathe in the fresh air of NSW's stunning hinterlands, and pretend you're a Hollywood celebrity for the day (BYO tiny dog and diva attitude).

Writer's bio: Torre DeRoche is the Fearful Adventurer. Terrified of almost everything, she runs a blog covering refreshingly honest travel and adventure stories from the perspective of an alarmist who likes to arm wrestle with her fears. Follow her Blog, stalk her on her Facebook page, or connect via @FearfulGirl.
For more information about Olivia Newton John's Gaia Retreat, check out their website here.
more blog posts