In light of all the recent airplane groundings in the news, we've decided to put together a list of activities to keep you titillated on the runway while [insert airline name] sorts out their mess. Instead of playing the waiting game, make it a memorable event with one of these quirky time killers.
Start your memoirs
Stuck On A Plane is a wonderful title for a memoir and what better place to write it than on the runway in a plane. Or begin your autobiography with this catchy opening line: 'It was when I was stuck on a plane that I first thought of collecting my thoughts and making an account of the extraordinary life that I've lived...'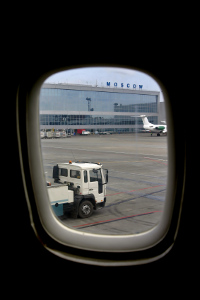 Invent a persona and act it throughout
This is one of those rare situations where it is possible to completely reinvent yourself without any consequence or judgement. Fancy yourself a 007 type? Why not adopt the fine mannerisms of her majesty's finest and tell your fellow passengers that your job 'involves sensitive business for the government' whilst recounting your extensive made-up adventures in far off places. Or try out these wild and wacky backstories: pretend to be an astronaut on your way to Moscow to catch a ride on the Soyuz to the International Space Station, a world class violinist in the New York Philharmonic Orchestra or a nose for a high-class perfumery. The fun of the game is in maintaining appearances without laughing.
Recount your entire life story
Being grounded is unlike a normal flight, therefore the normal small talk will not do. Go the full Forest Gump and tell your entire life story to a complete stranger. After all 'life is like a box of chocolates' - if you don't share it you're being stingy.
Read War and Peace
We've all met the snooty, smug know-it-all who claims to have read Tolstoy's War and Peace and loudly proclaims it to the rest of us uncultured folk - who are often too scared to respond because we haven't read it or are waiting for the condensed Hollywood movie. Now's the time to win back some pride by besting Tolstoy's weighty tome and preparing some keen observations to impress the plebs at your next dinner party.
Make a false connection
There is nothing quite as funny as the panic stricken look that comes over someone when they've completely forgotten a long lost friend; exploit this by pretending to be a long lost friend. The trick here is to get a good read of the person you're torturing so you can fill in the gaps when the inevitable "where do I know you from?" pops up. Be vague, but insistent and let them give you the details. By the time you've been caught out, you will have made a friend.
more blog posts