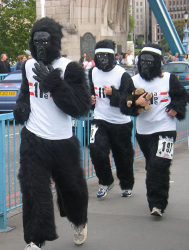 Welcome to the great Gorilla run – yes that's right – Gorilla run. This is London's second largest fun run and it's not hard to see why. The event has raised nearly £2 million since its launch in 2003 and averages 508 runners a year – all dressed to the nines... in gorilla suits.
The run takes place on Saturday, September 22nd, and is said to be the most fun you can have while running - or at least the most amusing race you'll ever take part in. The registration procedure is simple, but is full of complex decisions, such as what exactly looks good with primate. But now I'm getting ahead of myself.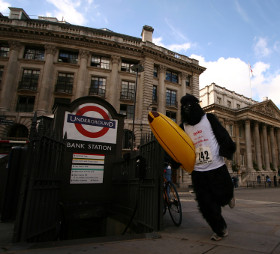 The very first thing you need to do is to register at greatgorillarun.org and do it quickly as the run is a mere two days away. After that you need to find anyone willing to sponsor your 4.6 miles run, jog or walk (you need to raise a minimum of £400 to participate, so no pressure). Then the fun begins – accessorising! And gents, don't be afraid of this word, you now have the chance to be as ridiculous as you want, all for a good cause.
The money raised from this event is used to fund several Central African NGOs, which in turn address issues such as poverty and lack-of-education. They teach the communities that surround Gorilla habitats how to grow food, access water and to use stoves that require minimal firewood, without going into the forest and destroying the gorillas' haven.
Feel like it's worth supporting? Then I think it's about time to talk suits - the hairy ones.There are many good outfits that go with 'gorilla' and you are encouraged to be as wild as possible. Not only is there a prize for the best costume, but it's also a great opportunity to be really outrageous, anonymously.
But dressing up is not the only fun side to the race. The City and Bankside route (starting and ending at the London Underwriting Centre, off Mincing Lane) allows you to take in some of London's most iconic scenery. Make sure you get someone to take your photo as you run across Tower Bridge dressed as a gorilla.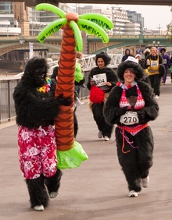 And you don't have to do the run alone. The Great Gorilla Run organisers actually encourage participants to run in the biggest group that they can, offering a prize for the largest gorilla family. So you now have your excuse to get everyone (over the age of 14) involved.
If you need a little help persuading friends and family to take part, get them to listen to what Sky1's Got to Dance judge, Andy Garcia, had to say about it - he is not just supporting the cause in the media, but he is also getting involved by actually running the race.
more blog posts