The Global Wheeling Foundation
Global Wheeling.org is the brainchild of Kayden Kleinhans, a highly charismatic native of Cape Town who is using his legs to drive the wheels of change around the world. There is nothing highbrow or pretentious about running his NGO – he is simply travelling the world on a bicycle, tallying up the kilometres and converting them into trees - and filming it along the way for our enjoyment.
His message is easy to understand and clear: ride a bike instead of driving a car (when you can) and our carbon footprint will be reduced. That's something everybody can do. To prove this point, he is cycling around the world solo and doing it happily (in a pair of flip flops, mostly). For all the carbon free kilometres he is cycling, trees are being planted. In his own words, "Whether you're a climate change carbon crusader or a global warming sceptic, at the end of the day, the world's a cooler place with more trees".
The first leg of his journey started in the UK and moved across Europe, down to Spain and across to Morocco via ferry. From there he peddled his way along the West Coast of Africa, all the way to his homeland, Cape Town, before aiming his bike up the East Coast of Africa. Besides experiencing several of the world's most spectacular destinations from the seat of a bicycle, he has crossed mountains, deserts and even civil war along the way, making it an epic, multi-faceted journey.
During the 2010 World Cup, Kayden's goal was to offset the carbon dioxide emitted by the event. The next part of his venture is to get back on his bicycle, keep sending his message out there and converting kilometres to trees – possibly the most exciting and challenging part of this venture.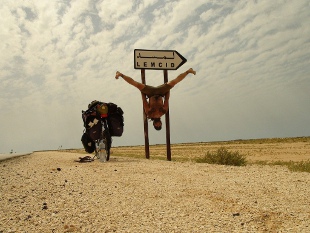 Essential Travel were lucky enough to catch up with Kayden before he sets off on the next leg of his journey, from South America to North America. We chatted about his travels so far, the incredible trip he's about to embark on, what keeps him going and a few exciting new projects he has in the pipeline.
Essential Travel: So Kayden, we have to ask… It has been over thirty one thousand kilometres, across four continents, through forty countries, all on a bicycle. Have you done it all wearing the same pair of sandals, or do you keep a supply handy?
Kayden Kleinhans: Ha ha ha... Unfortunately not, I think I've gone through a few pairs by now.... They seem to vary in "mileage" depending on where in the world you get them and its a quirky bit of entertainment trying to guess how many weeks or months I'll manage to squeeze out of a pair when I first purchase them. Having said that, I'll generally carry a back up pair and have also been known to clock up a few miles barefoot provided the conditions are favourable. Less is certainly more when travelling long distance on a bicycle, so eliminating socks was a big step in the right direction, coupled with the fact that I'm not that partial to lycra and all the other strange bits and pieces cyclists feel the urge to wear - I'm quite happy with the "fuss free" aproach to things which I find a lot more practical and laundry friendly.
Essential Travel: Your initial goal was to celebrate the football World Cup by offsetting the carbon footprint made by its happening. How did that first phase go and how have people responded to your cause?
Kayden Kleinhans: Phase one was a success in the sense that the initiative reached its target and successfully planted thousands of trees in various schools, homes and playing fields in disadvantaged areas of South Africa. The ride,however, has not been without its challenges as theft, illness, the Sahara desert & civil war in Ivory Coast have all stood up to be counted as serious obstacles and have certainly challenged the project. A bit of a mixed bag really, regarding peoples' response to the inititaive out on the road, a medly of disbelief, awe and enthusiasm basically sums it up. Donations could have been a bit more frequent, but I suppose understandably so in this trying financial climate we find ourselves in. Charity projects are generally pushed to the back of the money queue on people's agenda which is a bitter pill to swallow considering that the driving force behind the initiative are the pressing environmental issues that need to be adressed.
Essential Travel: Your NGO (Global Wheeling) now aims to plant one indigenous tree for every carbon-free kilometre cycled. When did you first decide to get on your bike and do something for a cause that you believe in and how much time/effort did it take to get organised? Did you do loads of training for it?
Kayden Kleinhans: The concept of Global Wheeling was first born whilst cycling across the Nullbor plain in the South of Australia in 2005. The realisation of that dream however would take a few years to crystalise and formally take shape as an NGO and platform for environmental awareness and positive change. Making a conscious decision to pursue a vision I believed in demanded huge sacrifices on a personal and professional level and one that took time. However, after years of planning things came together and I am now successfully converting carbon free kilometres into trees with the help of public donations and some fantastic wholesale indigenous nurseries that sponsor me and support the cause. I am a keen bike advocate and firm believer in the bicycle as a positive tool to assist in solving various problems from carbon emissions to congestion, particularly in urbanised areas and I thus spend most of my time getting from A to B on two wheels so training is no longer necessary for the longer trips, which is great as my endurance builds up rather quickly these days.
Essential Travel: As mentioned earlier, the cause of Global Wheeling has taken you across four continents (and soon onto five and six). What is it like to cycle through countries like Senegal or Indonesia (for example) with just a tent and your supplies? Do you thrive off the adventure aspect of the journey? Do you ever get freaked out by camping alone? Are you more scared of animals or people when you're on the road? (sorry – we know it's a long question)
Kayden Kleinhans: That is a long question... grin. There is a degree of freedom that becomes addictive, the 'not knowing where you will lay your head that night', whether you'll be sleeping in a thunder storm in the jungle or invited into a fisherman's hut to share a meal with his family. In my opinion, this sense of vulnerabilty is travel in its purest form and a place far removed from any comfort zone we may feel obliged to foster back home.
You make reference to Indonesia and Senegal, which are both predominantly Islamic and, in my experience, both overwhelmingly hospitable places to travel. The general psyche and undertone of community "protocol" in these countries sees the majority of people in rural areas going out of their way to assist with food, water and shelter wherever they can.. I suppose growing up in Africa has certainly helped me to wrap my head around all the bugs, snakes and dangerous animals and I now find people to be more of a threat to my safety than anything else, particularly when travelling through hostile areas with rebels or the likes of the civil war I encountered in Ivory Coast last year.
Essential Travel: Is there a destination that really stands out as THE favourite of all the countries you've visited? Perhaps somewhere you'd like to go back to one day as a regular tourist?
Kayden Kleinhans: My favourirte destinations are somewhat off the beaten track, a few gems I've stumbled across along the way that have not yet been tarnished or diluted by excessive tourism and will remain a secret to help preserve their purity for just a little while longer. On the flip side, there are a handful of majestic destinations frequented by the tipper tapper of foreign feet that still get the heart racing and are no secret at all in this day and age. Vietnam, Morocco & Swaziland all spring to mind.
Essential Travel: You are now gearing up for the next phase of your journey, through the Americas. What have you got planned for that trip and what are your goals for Global Wheeling?
Kayden Kleinhans: Yes, the Americas are next on the agenda, and a part of the world I have had a strong connection to since a childhood fascination with the Amazon jungle. The next phase of the ride will start in Argentina, moving northwards through Uruguay, and Brazil and heading west towards Bolivia and over the Andes where it will hug the west coast of the continent on its way to the finish line at Black Rock City in Nevada, US. The Global Wheeling initiative will continue to convert carbon free kilometres into trees through public donations via the NGO and plant them in some of the poorest communities in South Africa.
Essential Travel: Are there any highlights you are looking forward to?
Kayden Kleinhans: For sure, the obvious physical challenge of conquering the Andes solo on two wheels springs to mind. Experiencing the Amazon jungle first hand and being immersed in Latin American culture, where I hope to acquire some basic Spanish and with a bit of lick some dance moves. Ha ha...
Essential Travel: Lastly, your NGO is 'virtually' run, and you emphasize how easy it is to make a difference. What do people need to do to make a donation and follow your cycle adventure?
Kayden Kleinhans: There are a few fantastic ways to get involved, the most obvious and simple way is to sponsor a carbon free kilometre via the Global Wheeling website: every kilometre sponsored will plant a tree in South Africa and will cost $20 - this can be done via PayPal on the website. The trials and tribulations of the travel blog can also be found here and subscribed to if you so choose. Secondly, the two part independently produced Global Wheeling documentary is currently running a fantastic community-based fundraising drive through a crowd sourcing platform that offers amazing, unique perks and incentives, from signed, original photos of the trip, to handcrafted wire bicycles made by local artists, and gifted trees with African GPS coordinates. More details about supporting the fundraising drive and helping to get the documentary off the ground, are available here. Global Wheeling can also be found and followed on the facebook fan page.
Essential Travel: Thanks so much for your time! All the best!
Kayden Kleinhans: Cheers, thanks for having me.
more blog posts