The Glastonbury festival, in its fourth decade, kicks off Wednesday 22 June for five days of the best legal fun you can have on a farm. This may be your last chance to do Glastonbury if the world ends, as expected in 2012. The next show is in 2013 and registration for that event has already started. In keeping with the festival's hip reputation, this year sees the launch of the new and improved festival mobile app. Orange in conjunction with Glastonbury Festivals have released the mobile app for iPhone, Android and Nokia.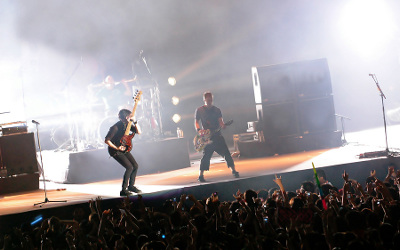 This app will be especially useful to Glastonbury newbies, who are often prone to cases of the festival fever - FOMO (Fear Of Missing Out). With so many good acts to see you end up walking around in a circle unable to commit to any. The mobile app makes planning your ideal Glastonbury experience so much easier. The electronic programmes guide keeps constantly updated with the latest live line-ups and secret gigs - like the surprise Radiohead set in 2010. With the mobile app's planning function, your Friday night could be U2 at 22.00 on the Pyramid stage, Primal Scream at 23.00 on the 'Other Stage' and then a quick dash in the mud to catch a bit of Cee Lo Green at 23.30 on the West Holts Stage. If you have no idea what to see, let the 'Live Heat Map' guide you to the stage with the most buzz - the map is driven by user submissions so you'll always know where the best gig is.
You can also share your own gig guide on Facebook with your friends - so that you have witnesses with you when the band we can't mention makes the appearance we can't talk about at the stage you don't expect. When your legs can't carry you anymore, the interactive map will help you find your tent. Waking up in someone else tent 'by mistake' should be a thing of the past... we hope.
If you're ticketless and suffering from a bit of Glastonbury envy, check out our list of Top 10 UK Festivals
To download the app go to orange.co.uk. For more information on the festival visit glastonburyfestivals.co.uk. If you don't have a smartphone, clashfinder.com is the next best option.
more blog posts