Giant Guatemalan Sinkhole
By: Clayton Truscott
Published: 02 June 2010
Tags: bizarre
While other countries in Central America have taken a serious knock from the Pacific tropical storm Agatha, Guatemala received the most brutal hiding of all.
A giant sinkhole has formed in Guatemala City, swallowing several buildings and a chunk of the street into the earth. There's no other way to describe this - a part of the city has literally been consumed by a deep, cylindrical hole. It's like a scene from an overdone disaster movie.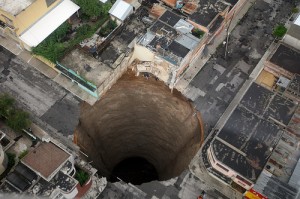 Photo courtesy of Paulo Raquec.
This is not the first time a sinkhole has dropped in Guatemala - in 2007 a sinkhole 100 meters deep formed during similar conditions. Scientists are still trying to work out why it formed during the storm. David Monterroso, geophysics engineer at the National Disaster Management Agency, suggested an Indiana Jones-like adventure as soon as it was safe enough to "descend" for an investigation.
To make a bad situation worse, the nearby Pacaya volcano erupted during the storm, causing a cloud of ash to form above the city. The airport was closed for 5 days, during a period when international aid was being sent to Guatemala.
With the storm settled and aid work in full swing, more and more unbelievable pictures are surfacing.
more blog posts