Top 4 Tips For Getting Through Saint Patrick's Day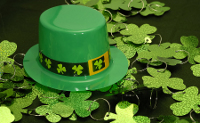 We're dying to start off this list by saying, "Top 'o the morning tae ya!", but we thought it would be silly and just too much. That isn't going to hold us back from mentioning the rest of the usual clichés though, which you are bound to find on any list of essential things to remember for Saint Patrick's Day. The Patron Saint of Ireland's special day is not exclusively celebrated by Irish folk anymore. So get yourself a pint of Guinness, settle in and make sure you remember our list come Saturday evening.
1. Attend A St Patrick's Day Parade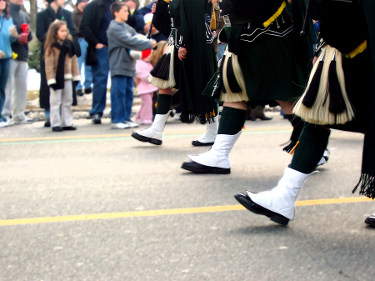 This is probably much easier said than done as there aren't really that many around. Unless of course you're in the USA where the first ever St Patrick's Parade was actually held in New York in 1762 and since that day cities throughout the US have competed to hold the greatest St Paddy's Parade. If you're short on time and and you happen to find yourself near Hot Springs in Arkansas, you can witness the World's Shortest St Patrick's Day Parade. The annual procession is literally a walk over Hot Springs 98ft-long Bridge Street. As with most great St Paddy's Day traditions, the idea to have the parade was decided by a small group of folk over a few pints in 2003 and the next year the first short parade took place.
2. Find A Good Irish Pub
During the 1840's Ireland experienced a terrible famine, which saw a significant number of people leaving the "40 Shades of Green" for even greener pastures. Many went to New Zealand, South Africa and as popular movie culture has taught us, New York in the USA, where it is said, more people claim to be of Irish descent, than there are actually people living in Ireland. With these emigrants went the fantastic Irish culture of hospitality and of course that means Irish Pubs. You're bound to find at least one Irish Pub in your city, but perhaps the last place you would expect to do so is in Mongolia. The Grand Khaan Irish Pub is a popular night spot in Ulaabaantar, Mongolia and come Saturday evening, if you're in town, this is the spot you simply have to go to receive your pint of green beer or Guinness.
3. Pour And Drink A Guinness The Right Way
Is fearr de thú Guinness is old Irish for "Guinness is better for you" and was proudly stated on some of Guinness' earliest advertisement posters. Better than what? is not ours to question, but simply put, St Patrick's day is just not complete until you've had yourself at least one pint of this dark-brewed Irish stout. A pint of Guinness should be served in a tulip-shaped glass and should be poured in two steps. First a short pour to create the tiny bubbles, which will form the creamy, domed head associated with Guinness. Once that's settled, simply fill up the remainder of the glass with a slow pour until the "head" of the stout creates its signature domed top of creamy foam. As Guinness has also stated: "Good things come to those who wait".
4. Recipe For Green Beer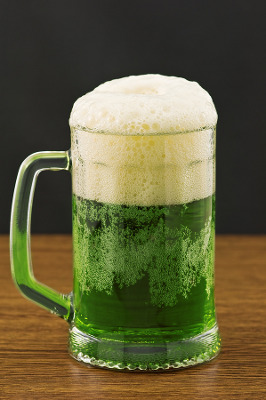 If the burnt flavour of un-malted barley, Guinness's distinguishing flavour, is not suited to your palette and you prefer a lighter beer, then it is imperative that you only drink green beer on St Paddy's Day. How in the world do you make your lovely golden ale an even lovelier shade of green? Simple, just follow our recipe. You will need a decent-sized beer mug, enough beer to fill it with and green food colouring (it's really more the method than the recipe you need to remember).
1.Take your beer mug and put a tiny dash of green food colouring in the bottom of the glass - the more you put, the greener your beer
2. Pour your beer into your glass
3. Admire your fantastic skills of being an honorary Irish barman
4. Drink up!
It is really that simple. The lighter the beer you use, the more pronounced the colour of green will be. Darker beers like stouts such as Guinness will produce a great green head atop of your pint.
So whether it's Guinness, green beer or any other drink of your choice, March 17 is your day to proudly claim you're Irish - even if you're not - and have an evening of fun with friends. What will you be doing for St Paddy's Day this year, do you have any favourite pub suggestions? Tell us about it in the comments below.
more blog posts