Freeze Festival 2012 is just around the corner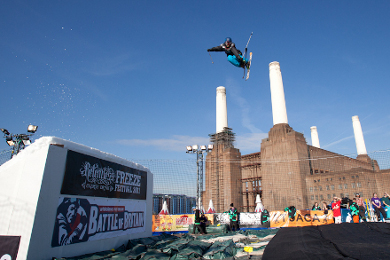 The world's leading freestyle skiers and snowboarders are preparing to bring their biggest twists and spins to the UK as the countdown to 2012's London Freeze Festival begins.
Our number 1 winter sports event is back at the iconic Battersea Power Station, which will once again be transformed into a huge ski and snowboard arena. The two-day festival, with its huge big-air jump, will be complete with food halls, alpine bars, shopping stalls and massive music venues.
The Warm-up
We had the chance to head down to Milton Keynes SnoZone and meet up with some of the British freestyle stars hoping to impress at the festival. There were some big tricks thrown, some interesting landings and some great chat from the leading lights of British winter sport.
It's clear from listening to the pros what it means to have the festival in London and giving them the chance to perform in front of a UK audience. Check out the video below:
The Relentless Energy Drink Freeze Festival 2012 in association with Metro takes place on the 26-27th October at Battersea Powerstation. You can purchase tickets here
more blog posts