Five Weird Hotel Rooms
By: Clayton Truscott
Published: 12 April 2011
Tags: bizarre
Your holiday is an exciting event, so who says your accommodation shouldn't be too? For anyone who feels like they need a break from normality, we've compiled this short list of eccentric hotel rooms around the world. Some are exotic, others are fun or outlandish, but all of them are definitely not what you'd expect for your typical hotel suit.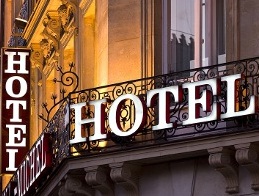 1. Upside Down Room at the Propeller Island City Lodge, Berlin
The Upside Down Room is one of many weird and wonderful rooms in a hotel inspired by the Jules Verne novel of the same name. The room is inverted - the beds and chairs are literally stuck to the roof, suspended above you. No levitation skills are required, as sleeping quarters are carved out of the ceiling (or rather the floor) with surreal views of the floor (or rather the ceiling).
2. Barbie Suite at the Palms Casino Resort, Las Vegas
Developed by Mattel (makers of Barbie) and designed by Jonathan Adler, this luxury suite is perfect for hen nights. With pink, plasma screen TVs, a mirror made from 65 Barbie dolls, a fireplace and an extra-large jacuzzi tub, it is as close to living in Barbie's shoes as you will get. A treat for girls of all ages (and their Kens).
3. Harbour Crane in Harligen, Netherlands
A fully operational crane converted into a hotel room overlooking the Harligen harbour. Guests can idle away the hours playing with the crane and enjoy a moving panoramic view of the surroundings. It's booked up for the next five months, so be sure to plan ahead of schedule.
4 Das Park Hotel in Ottensheim, Austria
How about spending a night in a lockable concrete drain pipe, overlooking the beautiful Danube river? Beds and power are provided, making your stay in these humble quarters nice and comfy. This community project is a huge winner with budget travelers - rooms are charged at a 'Pay As You Wish' system, which means that you decide the rates based on what you can afford.
5. Jumbo Stay in Stockholm, Sweden
How many times have you heard someone complain about sleeping poorly on an airplane? The Jumbo Stay hostel has taken on this preconception and converted a Boeing 747 into a great place to spend the night. Formerly in use by the UN, the plane has been refurbished and converted into a 27-room hotel. Treat yourselves and book the cockpit room for the best view in the whole place.
more blog posts