Interview With Amber Suppus,
Chico Farmers' Market Manager
Farmers' Markets are growing in popularity around the world. This month in the Essential Travel Magazine we looked at the Top 10 Local and International Farmers' Markets, showcasing a collection of fine establishments that should be on everyone's must-see list.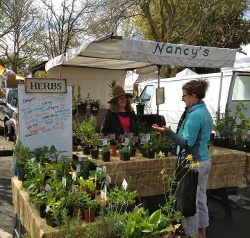 Besides the setting up of stalls that sell delicious, fresh, locally-sourced food, what goes into the making of a great market? We decided to pose the question to somebody who knows the answer all too well. Meet Amber Suppus, Chico Farmers' Market Manager and general Swiss-Army Knife. In between juggling the wide range of tasks that go into planning the market, Amber took a few moments to chat to us about the finer points of making sure that a magical market takes place each week.
Essential Travel: Tell us a bit about your role as the Chico Farmers' Market Manager?
Amber Suppus: My responsibilities vary week to week, day to day, depending on what we have to do. My core responsibility is making sure that the market is full and that all the spaces are used correctly. We have to segregate between certified and non-certified, in order to be compliant with the agriculture department – they are our governing body. So I make sure that everyone has their certificates, makes it there on time... I'm also the instant commander if somebody falls, if there is a complaint, a theft, dogs in the market - I'm basically the all-round patrol person.
*Amber points to a big cabinet on the side of her office.
My filing cabinet has everybody's permits – CPCs (Certified Producer's Permit), which tells me what they are and aren't allowed to grow on the farm. That's on top of the book keeping and general admin, but I guess my main responsibility is making sure everything goes smoothly on Saturday, and that I take care of my vendors and customers.
Essential Travel: What are some of the biggest challenges you face while managing the market?
Amber Suppus: Boy, the most challenging aspect... (laughs) We are a fluid market that takes place in a parking lot and there are signs, plus everybody in the community knows about the market every Saturday. But out of town guests who come to Chico for the weekend will sometimes go out to dinner and drink a bit much, so they'll leave their cars overnight in the parking lot. So I'll come in with my map, all ready to go, only to find a few cars in the market. Trying to jockey everyone around this can be challenging. Some of my vendors arrive at three in the morning to set up, some even earlier! So I have to beat all my vendors to it, so that I can adjust the set up. That's my ultimate challenge in the morning! (laughs)
Essential Travel: Can you tell us what you find most rewarding about managing the market?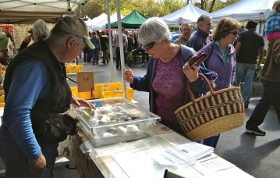 Amber Suppus: Ah, that's a long list. The vendors - they are like family. I call this my Hippy Church. This is my place to reconnect and check-in with the community. I just love how everybody cares for one another. Everybody is concerned about everybody and wants to see the market have a successful day. I love the smiles I get from everybody - my friends and the local community. Even the mayor comes every Saturday to shop with us. She is a part of the community and it's such a community-oriented event. It's a busy job (managing the market), but you can't help feeling refreshed and very fulfilled.
Essential Travel: Is there ever any friction between the market and the local shops? It's tough everywhere right now, economically - does that cause tension?
Amber Suppus: It's a constant struggle. Fortunately the city of Chico has really extended the olive branch to our farmers' market. There has been some tension because the parking down town is not always easily accessible. We're located right across from a mall and there have been complaints that we're taking away business, but there's no other grocery market down town. So competition-wise, there's no problem, but the businesses do like to have their parking. We've been here since 1986 though and over the years there have been some great steps taken towards working together. There are never ill feelings, it's just parking.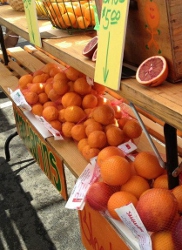 Essential Travel: Yes, parking is an issue everywhere!
Amber Suppus: It is. We really try to encourage people to ride their bikes. This is such a bike-friendly community.
Essential Travel : Thank you so much for your time, Amber.
Amber Suppus: It's a great pleasure. Thank you.
For more information about the Chico Farmers' Market in California, check out their facebook page.
more blog posts