Dine on Rockefeller Centre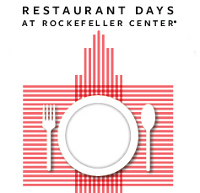 If New York is the self-proclaimed capital of the world then Rockefeller Center is the, um, centre of world. Even if you've never heard of it you've probably seen it in your favourite TV show (most prominently in the opening sequence of 30 Rock). For a few days in May the centre of the world will be turning into an expo of the finest foods and smells with the Rockefeller Centre's "Restaurant Days". To help the food down we've put together the perfect Rockefeller Center Day. Read on and make sure to supplement your diet with these mouth-watering sights and must-do experiences in the core of the Big Apple.
Restaurant Days at Rockefeller Plaza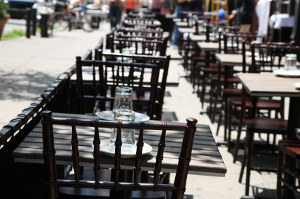 Rockefeller Centre has a constellation of Michelin star-rated eateries on its twenty-two acres, but on restaurant days a special effort is made to turn centre plaza (between 49th and 50th Street) into an alfresco lunch-time dining experience par excellence. The day opens at 11am and ends at 2pm, so plan the rest of your day accordingly. The range of foods available is immense; whether it's a platter, a plate, a dish, a smorgasbord or a bread basket, there is a meal just waiting to tantalise and titillate your taste buds. Restaurants in the area include the glamorous Sea Grill, serving the 'freshest oceanic delicacies' with a view, square pizza done the traditional way at Harry's Italian pizza parlour, the simple charms of sushi at the Sushi Den or the sweet temptation of Teuscher Chocolates, amongst others. Restaurant Days runs until the 18th of May so don't miss out and when you're done filling your stomach we recommend you explore this city within the city by visiting these attractions.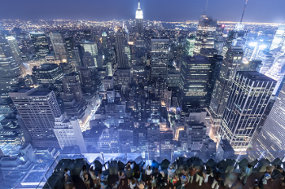 Top of the Rock Observation Deck - That the views are stunning goes without saying, but what really gets visitors excited is the glass elevator ride to the top. With a choice of indoor, outdoor, night and day you can see the Big Apple, in all its industry, any time you want.

See more high-rise observatories in our list of the Top 10 Skyscrapers.
Radio City Music Hall - The nearby music hall is the art deco home of American entertainment. The 6000-seat theatre hosts big budget movie premieres, every important awards ceremony in showbusiness and all the most relevant music artists of our times.
NBC Studio Tours - As mentioned earlier, Rockefeller Centre is the most telegenic location in New York, but additionally it is also where most televison is made in the city. Visit the famous NBC Studios to see and be part of shows like Saturday Night Live, The Today Show and Late Nigth with Jimmy Fallon.
For more on the city see our 24 hour guide to New York.
more blog posts