Long Beach, New York, is not quite as famous as the Manhattan skyline. It's a small beach town about an hour's car or train ride from the city, with a well-established wave riding community who brave it out all year long. Even in winter, you'll find guys and girls arming themselves in rubber, and enduring the ridiculously cold water for as long as their fingers and toes can take it (it gets a big dangerous when those all-important appendages start to go numb).
The stage was set for Quiksilver, the colossus of surfing brands, to host an 15 day Surf/Sport/Music festival in little LB, starting this weekend. Unfortunately after Hurricane Irene lambasted the East Coast, organisers were forced to push back the festival's start date to 5 September and cancel the music acts - Interpol, the Flaming Lips and Taking Back Sunday were the headliners.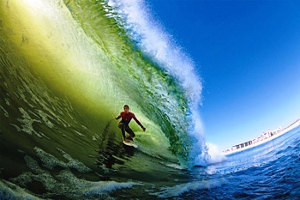 But the hurricane's violent sweep has done nothing to dim the excitement for the local (and international) surfing fans, who are still anxious to see a competition (the main attraction) of this size take place on Long Island. The third instalment of the Quiksilver Pro Global Series - a huge event in its own right with plenty of points on the line for surfers on the ASP (Association Of Surfing Professionals) World Tour - will still run as planned.
Spectators will still be treated to demos from extreme sports icons Tony Hawk, Travis Patrana, Omar Hassan and Christian Hosoi - amongst others. While all this is going on, there will be art exhibitions, fashion shows, movie premieres and stalls selling bric a brac of all descriptions.
Hosting the event will be Quik's Numero Uno ambassador, the mercurial Kelly Slater - 10 times world surfing champion, author of two Best Selling autobiographies (that's right, one wasn't enough) and general jack-of-all-trades. His band (Kelly Slater and Friends) also had a slot on the bill - their album, Songs From The Pipe was released in the mid-90's and opened for Pearl Jam on the world tour. On September 11, the ten year anniversary of the 9/11 attacks, you can expect a moment of silence for the victims of the Twin Towers attack.
more blog posts