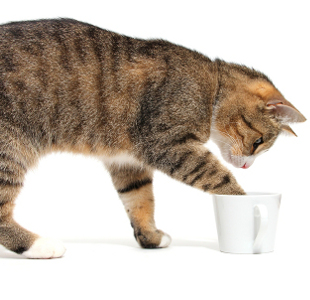 Cats and coffee, coffee and cats. It's not the likeliest of combinations. But it is in fact a very popular union which first took off in Asian countries almost 16 years ago. Now Londoners can join in on the feline fun with a cat cafe set to open in Shoreditch. Taiwan first established cat cafes as early as 1998. It wasn't long before the craze caught on in Japan and soon enough similar doors were opening in South Korea, Russia and Austria.
What Is A Cat Cafe?
Well, it's a cafe just like any other. They serve a variety of beverages as well as a selection of food. There is one big difference though, while you are enjoying your morning cup of coffee, a flurry of cats can be found running around and leaping onto tables. Enthusiastic cat lovers, curious tourists,or people who can't have a cat of their own are able to spend an hour or more enjoying a caffeine and feline boost. However, it seems that more recently, the cafes have become an innovative way of initiating animal adoption.
Japan is home to a black cat café, a fat cat cafe, and a coffee house for ginger cats. Many of the cafes attempt to raise awareness for animal welfare and the animals are usually strays or rescued animals.
How Did They Start?
A lot of people might wonder what exactly sparked this unusual idea. The bustling cities of Japan and South Korea are dominated by high rise apartments. For this reason it is quite uncommon for families to own pets. Cat cafes, and more recently dog cafes, are the perfect answer to this real estate predicament. Customers can enjoy the presence of our four legged friends and not have to worry about the added responsibilities of owning a pet. It has also been said that the cafes were originally intended as places for stressed businessmen to go and relax.
The Rules
There are house rules that differ depending on the café:
Do not pick up the animals. Cats may be pet in moderation
Children must be accompanied by an adult
Wash hands upon arriving
Do not feed the cats
London's Very Own Cat Cafe
It really is an experience not to be missed. Cat lovers don't have to venture as far as Asia to enjoy this trend. Britain's first cat cafe opened in Devon earlier this year and has already proved to be popular with customers. And now the fad has spread as far as London, with Lady Dinah's Cat Emporium set to open on Bethnal Green Road in Shoreditch.
The cafe has a website and a Facebook page (https://www.facebook.com/LadyDinahsCatEmporium) where they keep their fans up to date. They have secured planning permission and according to their timeline they are now in the construction stages. Next up is the "cat settling period". It shouldn't be too much longer before London's cat lovers can enjoy a feline friendly cuppa.
more blog posts