WIN A Private Ghost Tour And Delicious Meal For Two!
By: Clayton Truscott
Published: 19 April 2011
Tags: competitions
If you've got an eye for detail and a wicked sense of humour, then you could be in with a chance to win a fun filled, spooky evening and dinner for two in Cardiff (full details below). So if you like winning incredible prizes for a bit of silly fun then what are you waiting for?
Prize Details
The lucky winner will be spoiled by Jim Cowan (some of you might remember him from our Top 10 Things To Do Under A Tenner article), the fun and friendly-but-terrifying tour guide at Cardiff History And Hauntings, and the stylish, upmarket Mulberry Street Restaurant. The evening includes:
* A two course meal for two at Mulberry Street Restaurant, 48 High Street, Llandaff
* A bottle of house wine to accompany the meal
* A private ghost tour, on one of the best ghost tours in the UK, for two people, with additional stories, an opportunity to explore "hot spots" off the normal route, and souvenir gifts at the end
So, How Do You Enter?
Take a look at the following picture and fill your caption ideas into the comments section of the blog: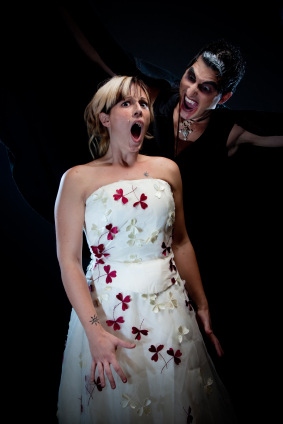 "What do you mean there's a spider the size of a small dog on my back!"
Make us laugh, make us cry, make us think - we're looking for the wittiest caption for this image. There are a few rules to the competition: no swearing, no overly crude intimations (you'll know you've overstepped the mark if we don't publish your comment!) and nothing that could be construed as hate-speech. YOU MAY ENTER AS MANY TIMES AS YOU LIKE!
To fill in your caption, simply enter your name and e-mail address (personal details will not be published) into the comments section and type away...
The closing date for the competition is 5 May, 2011, so get commenting!
Full Terms and Conditions are Available Here
more blog posts