Brussels' Grand Flower Carpet
By: Zoe Harrington
Published: 07 August 2012
Tags: culture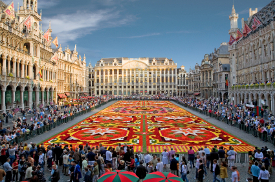 If you plan on visiting Brussels this August, you've definitely picked the right time. While this is an extraordinary city all year round, August brings about the famous 'Flower Carpet'.
In the middle of Grand Place, the must-see square of Brussels, a vibrant and beautiful carpet made of flowers takes up the floor area. This magnificent picture of nature takes place only once every two years, and with the amount of work and thought put into it, it's no wonder...
About The Flower Carpet
The flower carpet was first created by the landscape architect, E.Stauteman, in 1971. He had a passion for Belgium's exquisite Begonia flower, so he wished to show them off more. The Begonia was chosen not only because of its wide range of colours, but also for its ability to stay fresh for long periods of time.
The flower carpet became so popular that it's now a famous tradition in Brussels, bringing about thousands of tourists and locals. There is also a theme for the carpet each year, making it particularly interesting to see how the project will be executed differently each time. As you take a step back to admire the allure of this carpet, you should also keep in mind that each carpet takes a year to plan, which is proven in the fine detail.
Brussels Flower Carpet 2012
This year, the flower carpet opens on 14th August 2012 at 22:00. The 2012 theme is dedicated to Africa, bringing you the diverse African colours and culture. You can view it every day from 09:00 until 23:00. The flower carpet closes at 18:00 on 19th August 2012.
Fun Facts
The flower carpet covers a massive area of 252 feet by 78 feet.
Each flower is laid down by hand and there are about 300 flowers per square metre.
The people creating the carpet entwine the stems of the flowers rather than use soil.
It takes about four hours to create this grand carpet of more or less 800 000 Begonias.
There's tons to do in the cultural city of Brussels. Make sure to check out our 24 Hour Guide to Brussels for a full itinery of the best that Brussels has to offer.
Take a look at the 2008 flower carpet at Grand Place and watch it light up at night.
more blog posts