Britain's Best Picnic spot
If you've got a picnic spot in mind for this weekend's heatwave, you may well want to reconsider.
A vote organised by food standards agency Red Tractor of the British Guild of Travel Writers saw Rhossili Bay on the Gower peninsula the firm favourite. Rhossili just pipped popular picnic destination Tennyson Down on the Isle of Wight to the post, while Redpoint Beach in the Scottish highlands took third place, and Richmond Hill in Surrey came in fourth.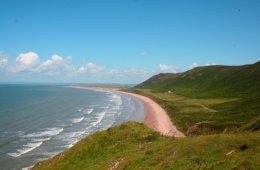 Check out the delights of here, or see Rhossili's entry in our pick of Britain's best beaches. Armed with this new knowledge, you may well want to check out our picnic essentials checklist too, before getting out and enjoying the sun.
more blog posts