Bestival 2011
By: Gugulethu Hlekwayo
Published: 07 September 2011
Tags: culture
The Best Festival of 2010 (Best + Festival = Bestival) is back again this weekend with another kaleidoscopic mixture of music, fun and questionable clothing (or lack thereof...). As always, Rob da Bank - founder of the event - has pulled together an eclectic and exclusive list of artists from all corners of the music universe to rock the Isle of Wight.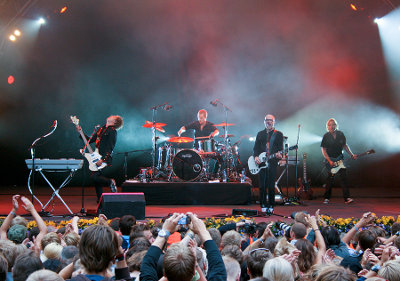 Who To See: The headlining acts this year include 80s Nu Wave favourite, The Cure, a swinging set by Pendulum and Bjork performing tracks from her latest album, Biophilia (hopefully she'll leave the swan dress at home). There's a broad range of artists to suit everyone's tastes and maybe introduce you to something new. Expect to see mind blowing performances by Dubstep's newest darling, Skrillex, or swoon and sing along to the smooth folksy sounds of Noah and The Whale, and if you just want to get up and dance, rock your body to the vocal stylings of Sweden's electro-pop goddess, Robyn, or have some of Kelis's musical milkshake (which brings all the boys to the yard).
What To Do: Bestival is more than music with a number of odd and interesting events to fill in the downtime between sizzling sets. Fashionistas and wannabes will enjoy Saturday's Fancy Dress Parade - the theme this year is Rock Star Couture. Find yourself a white glove, a meat dress or a zebra striped leotard to impress the judges - this year's judges are the masters of fancy dress: the Village People. On Sunday, Pants to Poverty will be attempting to break six (under)pants-related Guinness world records. Just wear your cleanest tighty whities and bring along any underwear you have to donate.
What To Download: The official festival mobile app is available in iPhone and Android flavours. With features like a live news feed, full set times, photos and videos, it is a must have.
For more information see bestival.net.
more blog posts