Three Ways to Celebrate Bastille Day Abroad
The 14th of July - Bastille Day - is a big deal across the channel. Paris comes alive with a Bastille Day parade, beautiful firework displays and an explosion of joie de vivre (exuberant enjoyment of life). But France isn't the only place to enjoy Bastille Day - au contrarie mon ami - the Gallic spirit is alive in these far flung places as well. Don your beret and prepare to be enveloped by all things French.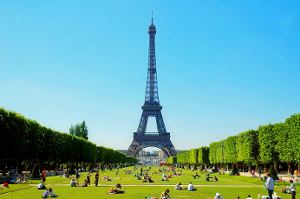 A French Frenzy in Franschhoek
The Franschhoek wine valley near Cape Town is considered to be a gourmet capital, with its statuesque mountainous surroundings and an endless array of award-winning wine farms. In 1685, when Protestantism was outlawed in France, over 200 Huguenots escaped to the Cape of Good Hope and settled where Franschhoek is today. Thousands of people flock to the valley to celebrate French heritage - this year is no different with a festival on 16-17 July. It's the perfect day's outing for food and wine lovers to come and sample delicious offerings, watch the annual waiter's race (a revered French tradition) and wander through the delightful streets of Franschhoek.
For more information see franschhoek.org.za
Beef Bourguignon in Brisbane
The dedicated and passionate French Festival Committee in Brisbane, Australia organises the annual Bastille Day fest. This year's Bastille bash will take place on Saturday 16th of July at South Bank - with free entrance throughout the day. In keeping with the French theme, there will be over 60 stalls of French food, art and crafts. Live performances include Shay Stafford (a renowned cabaret dancer) and Cirque de Nouvelle Caledonie performers...
For more information see brisbanefrenchfestival.com.au.
New Orleans Nouveau
New Orleans is an Eiffel Tower short of being a French city. The city and its French Quarter is acclaimed for its French/Creole architecture and cuisine. Bastille Day is stretched out over a week in a multitude of celebrations. The formal Bastille Day Ceremony in the French Quarter is on July 14. On July 16th, the Louisiana Children's Museum will hold Bastille Day celebrations where children can taste French food and make a mosaic of a mini Eiffel Tower or a Marie Antoinette wig. Finally on the 16th of July, a 'Storming of the Bastille' will take place at Molly's at the Market in the French Quarter.
For more information see neworleansonline.com
Who says that you can't throw your own Bastille Day party? Gather some friends and recreate some of the quirky Bastille Day traditions. Open up a bottle of Cabernet Sauvignon, serve French cheese and crackers, crepes and brioche, and encourage your friends to wear appropriate Revolution attire. Party your head off - without a guillotine.
more blog posts