Bar Coded Tour Of Gatwick Airport
By: Clayton Truscott
Published: 08 November 2010
Tags: technology
The giant bar codes at construction sites around Gatwick Airport may seem a bit odd at first glance.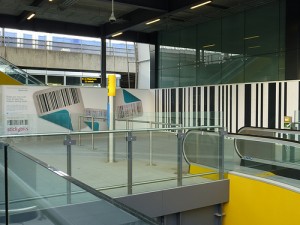 These are info tags from stickybits, which carry digital information. Smart phone users can download a free application that allows them to scan the tags and access the info embedded in them. This can be music, photos, text, videos - anything, really.
In the case of Gatwick Airport, scanning the tags takes you on the Gatwick Discovery Tour, which shows you what the airport will look like when construction is finished. The first part of the tour kicks off at the North terminal's shuttle stop. Travellers can scan the bar code and take an audio-visual tour of the newly built bus route.
While the terminal upgrades can be pricey for the airport and inconvenient for travellers, these tags are using the latest social media gadgets to put fun into the process. It also keeps the general public informed about the airport's plans - how it is spending money on making improvements.
more blog posts